2 or 3 things I don't know about her
Spring Grants 2021 - Production Stage
Synopsis
Lila is an 18-year-old girl living in Brest, France. She recently decided to wear a veil, to the dismay of her family. After an argument with her boyfriend, Lila does not feel like celebrating Eid at home and decides to slip away.
Credits
Director

Sabrina Idiri Chemloul

Screenwriter

Sabrina Idiri Chemloul

Producer

Marion Barré

Production Company

La Cellule Productions
About the Director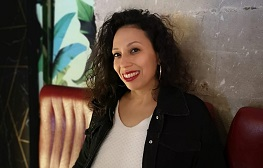 A member of L'Etna, the Experimental Cinema Workshop, Sabrina Idiri Chemloul directed her first short film, 'Ces Images Qui me Regardent' in 2002. She then pursued her career in Canada and the United States, where she directed another short film, 'Mario's Flower' in 2005. She collaborated as a script supervisor on various independent feature films and television shows (HBO, PBS, Comedy Central) while starting to write her own screenplays. Her first feature screenplay received a rewriting grant from the French Centre National de la Cinématographie and was further developed at the screenwriting residencies Atelier Grand Nord (Canada, 2016) and Méditalents (France, Morocco, 2016). The screenplay was also shortlisted at the Rawi Screenwriters' Lab (Jordan, 2016) and Cinephilia Inspire Residency (New York, 2017). She is currently developing a documentary project (Pitch d'Addoc 2021) and showcased a video installation as part of a contemporary art exhibition at La Maison des Arts, from June to November 2021, in Malakoff, France.
Contacts
Main Contact

Marion Barré

Company:

La Cellule Productions

Phone:

+33623867591

Email:

marion@lacelluleproductions.com