Outside the Law (Hors la loi)
Opening Night Gala
Synopsis
Set between 1945 and 1962, "Outside the Law" traces the lives of three brothers whose family has survived the Sétif massacre, and driven off its land in Algeria. Abdelkader (Bouajila), becomes the leader of the Paris branch of the Algerian National Liberation Front (FLN), Messaoub (Zem) comes back from fighting for the French army in Indochina and joins his brother in the resistance movement. The less political Saïd (Debbouze) turns to pimping and running cabarets, while training a fighter he hopes to be the first Algerian boxing champion of France. When the French security services form "The Red Hand," a secret squad that is above the law when it comes to Algerians, the violence escalates. The battle for life and freedom interconnects the destinies of the three brothers, presenting each with difficult personal choices and sacrifices.
"Outside the Law" is a tense and energetic historical drama, masterfully orchestrated by visionary director Rachid Bouchareb, aided by incredible performances from his star trio.

About the Directors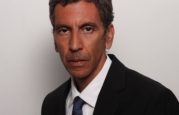 Since his first film in 1985, "Baton Rouge," Bouchareb has been questioning immigration, rootlessness and mixed cultures. Born in Paris to an immigrated Algerian family, in 1987 along with friend Jean Bréhat he founded production firm 3B. Nominated for the Best Foreign Film Oscar with "Poussières de vie" in 1995, his most important success so far has been the French hit "Indigènes," which as nominated for a Golden Palm and won the Best Actor and Francois Chalais Awards at the 2006 Cannes Film Festival. His new film, "Hors la loi" was presented in Cannes this year in the official competition.
Credits
Director

Rachid Bouchareb

Producer

Jean Bréhat

Editor

Yannick Kergoat

Director of Photography

Christophe Beaucarne

Music

Armand Amar

Cast

Jamel Debbouze, Sami Bouajila, Roschdy Zem, Chaffia Boudra, Bernard Blancan, Sabrina Seyvecou