Before Darkness (قبل از تاریکی)
Ajyal Competition, Ajyal at Vox
Synopsis
An Afghan woman hides her child in a bag because she does not have enough money to take them both across Iran's border. But her plan is exposed with heartbreaking consequences. Forced to leave her unsympathetic smuggler's truck, she is put in an unforgiving position with only unthinkable options left. This tense and visceral, dramatic short puts viewer uncomfortably close to the types of seemingly impossible decisions faced by millions of displaced people around the world.
About the Directors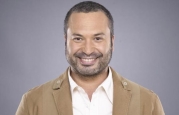 A stand-up comedian who tours the globe, Ahmed was born in Helwan, Egypt, and as a child moved to the United States where he grew up in Riverside, California. At 19, he moved to Hollywood to pursue a career as an actor-comedian and attended the American Academy of Dramatic Arts. Ahmed can be seen in films and television shows including "Iron Man," "You Don't Mess With The Zohan," "Swingers," "Roseanne," "JAG," and MTV's "Punk'd." In addition, Ahmed appears in" City of Life," the first feature to be shot entirely in Dubai, and he was the recipient of the first annual Richard Pryor Award at the Edinburgh Comedy Festival in Scotland. Along with fellow comedians Maz Jobrani and Aron Kaider, Mr. Ahmed created the "Axis of Evil" comedy tour and performed to sold-out audiences through the Middle East. Mr. Ahmed made his directorial debut with the documentary "Just Like Us," which chronicles the tour.
Mosayeb Hanaie was born in 1986 in Shiraz, Iran. He holds a BA in cinema (Directing) from Sooreh Art University in Tehran and a MA in cinema from the Iran Broadcasting University. He began making short films in 2010 with a project called 'Anything Unimportant' and has completed three films, two fiction and one documentary.
Credits
Director

Mosayeb Hanaei

Screenwriter

Mosayeb Hanaei

Producer

Fariba Keshavarzi

Editor

Mosayeb Hanaei

Director of Photography

Taylor Feltner

Composer

Omar Fadel

Cinematographer

Masoud Talebi

Production Company

Iranian Youth Cinema Society

Sound

Mehdi Khanjan Afje

Cast

Shahbanoo Mohamadi, Iraj Tadayon, Reza Ahmadi, Narges Hazar, Ghasem Alizadeh, Ahmad Ataei, Akbar Sharifi, Bashir Nikzad, Gholamhosein Shabani far, Parsa Shabani