All Ajyal Youth Film Festival 2014 Films
Whiplash
Bader - ages 18+ - Ajyal Youth Film Festival 2014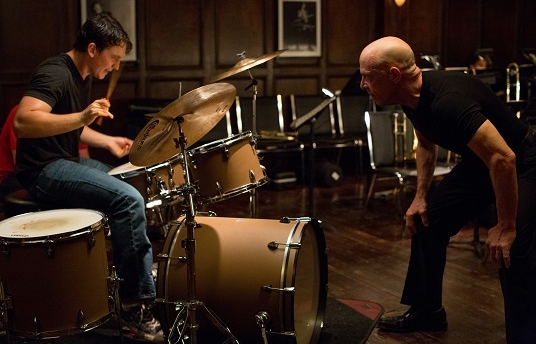 Synopsis
An ambitious young drummer clashes with his ferocious instructor at a cutthroat music academy. In a twisted way, the two seem made for each other, as the teacher ruthlessly preys upon the youth's perfectionism, driving him to the brink of insanity in an escalation of increasingly terrifying events.
Known as one of the best unproduced screenplays of 2012, 'Whiplash' was a difficult project to get off the ground. Director Damien Chazelle wanted the film to play like an emotionally intense thriller, but no one seemed to believe in his vision. That all changed when he shot the film's main scene as a stand-alone short film, which went on to win the award for best short at the Sundance Film Festival in 2013. A year later, this feature-length version was in competition in the same festival, where it won both the audience and the grand jury awards.
Reflecting his film's title, Chazelle uses the camera like a whip, unexpectedly slashing through the screen with scenes of emotional violence. Graced by a towering performance by J.K. Simmons as the borderline abusive instructor and a breakthrough turn by upcoming superstar Miles Teller as his student, 'Whiplash' demolishes the clichés of coming-of-age stories about child prodigies, plunging us into a sizzling psychodrama that hits all the right notes – no pun intended.
About the Director
Damien Chazelle was born in Providence, RI. Filmmaking was his earliest ambition, but in high school he studied to be a jazz drummer. After graduating from Harvard University, he directed his first feature film, 'Guy and Madeline on a Park Bench' (2009). 'Whiplash' won the audience and grand jury awards at Sundance in 2014.
Credits
Director

Damien Chazelle

Screenwriter

Damien Chazelle

Producer

Jason Blum, Helen Estabrook, David Lancaster, Michael Litvak

Editor

Tom Cross

Production Designer

Melanie Paizis-Jones

Music

Justin Hurwitz

Cinematographer

Sharone Meir

Sales Company

Sierra/Affinity

Production Company

Blumhouse Productions, Bold Films, Right of Way Films

Distributor

Eagle Films

Cast

Miles Teller, J.K. Simmons, Paul Reiser, Melissa Benoist, Austin Stowell, Nate Lang, Max Kasch, Damon Gupton