2019
Screenwriting for Beginners Lab
Start date:

Aug 03, 2019

Ability Level:

Beginners
During this Screenwriting for Beginners Lab, aspiring writers will explore and learn about the creative process of writing for the screen. The lab will include the foundations of screenwriting, and mentors will cover the 'architecture' of screenplays (storytelling, screenplay guidelines, non-verbal storytelling and characterization) and the 'formatting' of a screenplay (visual grammar and Celtx/Final Draft). The lab is to include: lectures, assignments and group discussions.
As this is a beginner's lab, the aim is for participants to come out of this course with a minimum of one scene for their screenplay. They can continue to work with the development team after the lab and work towards applying for other labs or grants.
---
Application Deadline: 20 July 2019
Dates:
English Lab: 3-7 August 2019
Arabic Lab: 24-28 August 2019
Hours:
Daily sessions of 4 hours:
Weekdays from 5:00 to 9:00 PM
Saturdays from 10:00 AM to 2 PM
Lab Fee: 500.00 QAR*
*Qatar Museums Culture Pass members will receive a 10% discount on this lab's fee. To avail of the discount, simply include a copy of your Culture Pass when applying.
Location: DFI Production Villa, West Bay.
Group Size: 8- 12 participants will be selected for each lab.
Level: Beginners
---
Day-to-Day Breakdown of the Lab:
Day 1
Lecture about 'Storytelling'
Screening of a feature film
Discussion of the feature-length screenplay (sent to participants prior to the lab)
Day 2
Screening of preselected short films
Lecture about 'Screenwriting Guidelines' (theme, three-act structure, character arc, etc.)
Day 3
Lecture about 'Non-Verbal Storytelling'
Exercise and discussion about Non-Verbal Storytelling
*Exercise: take photos or select photos that tell a story (beginning, middle, and end) – then discuss them.
Writers will then expand and perhaps revise their three-part image-driven stories into longer form and write about what their images convey.
Day 4
Lecture about 'Character-Building' and 'Media Literacy/Stereotyping'
Exercise and discussion of each participants' characters
Day 5
Lecture about 'Screenwriting Formatting and Visual Grammar'
Exercise and discussion about scene-writing
---
Submission Requirements:
Applicants should submit an email to development@dohafilminstitute.com with the following:
Original short film logline and synopsis
Applicant's CV
Copy of applicant's ID
Letter of interest
Eligibility
Applicants should be 18 years old or above.
---
Lab Mentors
Dana J. Atrach
Dana J. Atrach is a Palestinian screenwriter who is fascinated by the world of untold stories. She creates to raise awareness and inspire change by tackling quotidian social issues through comedy. Atrach believes that every individual's story is worth telling and aspires to be the outlet that enlightens viewers to see the enchantment behind every story.
Atrach holds a BS in Communication and Media Studies from Northwestern University in Qatar and an MFA in Screenwriting from the University of California, Los Angeles. Atrach is an Assistant Professor in Residence at Northwestern University in Qatar where she teaches screenwriting.
In 2014, Atrach's first feature script, 'Heeya Howa', won Best Unproduced Script Based on a Family Drama at the St. Tropez International Film Festival. Her second feature script, 'Alterations', is currently under development. Atrach has also written and co-written several short films that have premiered in Doha and Los Angeles.
Atrach has mentored and consulted on scripts for Nouf Al Sulaiti's 'Gubgub', Hassan Al Jahni's 'Ems7r', Khalifa Al Marri's 'Olayan', Khalifa Al Mana's 'Al-Tabbab', and many more. Atrach is presently writing A.J. Al-Thani's 'Khuzama', co-writing Noor Al Nasr's 'The Pearl', and working on her first animated short, 'Basreeli'.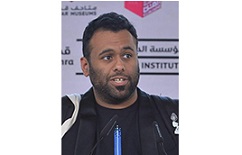 Fahad Ahmed Al-kuwari
Fahad Ahmed Al-kuwari is a writer and art director, who was born in Qatar. He comes from an art and design background, and holds a Bachelor's Degree in Fine Arts from Virginia Commonwealth University, and a Master's Degree in Film and Screen Studies from Goldsmiths, University of London.
He began his career in filmmaking through working in the art department with the Qatari production house Innovation Films, and went on to join Doha Film Institute as an Art Director and a Youth Programmes Coordinator. He was a member of the Ajyal Film Festival creative committee, and has been involved in the education sector as a guest lecturer at Virginia Commonwealth University in Qatar. Along with his colleagues, Johan Granberg and Ben Robinson, Fahad Al-kuwari received a Merit Award from The CIDA Awards for Excellence for developing a production design curriculum to be taught at Virginia Commonwealth University in Qatar.
Throughout his Career, Fahad worked on several short films as part of the Doha Film Institute "Qatari Film Fund" initiative, including 'Aljohara' (2016), 'Our Time is Running Out' (2017), and 'A Journey to from Love' (2016). He also wrote and directed 'Ruqya' (2011), and wrote 'I' (2012). His first participation in a feature-length film was on set of Mira Niar's 'The Reluctant Fundamentalist' (2012).