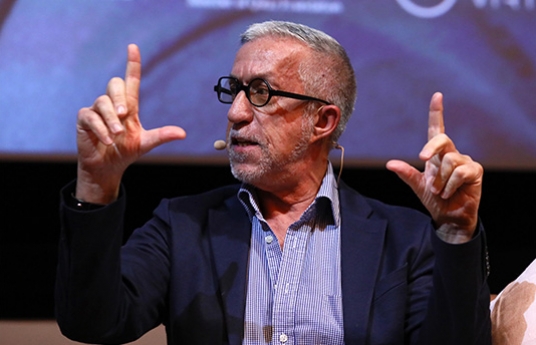 Virtual reality pioneer explains the potential for VR to revolutionise cinema
Doha, Qatar: 19 March 2019: At the second Qumra Talk of the Doha Film Institute's annual industry initiative, virtual reality (VR) pioneer Michel Reilhac examined the huge potential of this technology to transform cinema.
"There is no better time to participate in an artform than when it is being created, and that is what is happening with VR right now," said Reilhac. "There are literally no rules for how to use this technology in film – and that's exciting. It's up to filmmakers to invent the rules, and surely it's better to make up the rules rather than follow them!"
A renowned narrative architect and expert in immersive media, Reilhac heads up the award-winning production company Submarine Channel and teaches at Venice Biennale College. During his Qumra Talk, he demonstrated how filmmakers can learn from the revolutionary ways VR is being used in gaming. "The gaming industry has been pushing boundaries with VR for years now, offering the opportunity to be immersed in an alternate universe" he said, "I believe that filmmakers can learn from the gaming industry how to give their audience agency within the realities of their films."
"You will also need to accept that your viewer might not look at the whole world that you are creating in your film – only a part of it. Giving up this control is one of the most challenging things for a director."
The ethical considerations of VR and its impact on human behavior was also discussed by Reilhac. "The truth is that we have no idea where this technology could take us. It's scary and confusing. VR has the potential to create an alternative universe for humans, and we may well prefer to live as virtual humans in these worlds over living in the real world. But it's up to us what we do with this technology and I still believe it has huge potential."
Citing a recent study, Reilhac said that VR would reach a mature level and become part of our everyday lives within five years, and new technologies may further accelerate this progression.
However, Reilhac urged the audience to remember core principles. "As human beings we strive to make sense of the world. Ultimately, your work will be remembered for the quality of story and its emotional impact."
During Qumra, Doha Film Institute partners with Northwestern University in Qatar to offer talks from industry experts to filmmakers and members of the public. Reilhac's talk on virtual reality was complemented by the Qumra VR Lounge powered by Diversion Cinema, the lounge is open to the public every day of Qumra 2019. It explores virtual reality through two internationally acclaimed works – Arden's Wake/ Tide's Fall by Eugene Chung and Spheres by Darren Aronofsky.
The fifth edition of Qumra brings together more than 150 acclaimed filmmakers, industry professionals and experts to nurture 36 Qumra Projects by first and second-time filmmakers that are in various stages of development. The six-day event takes place 15–20 March at Souq Waqif and the Museum of Islamic Art. In addition to the Qumra Talks it features Qumra Master Classes and screenings in the Qumra Masters and New Voices in Cinema series.
Further details about ticket prices and sales for the screenings are now available on www.dohafilminstitute.com.