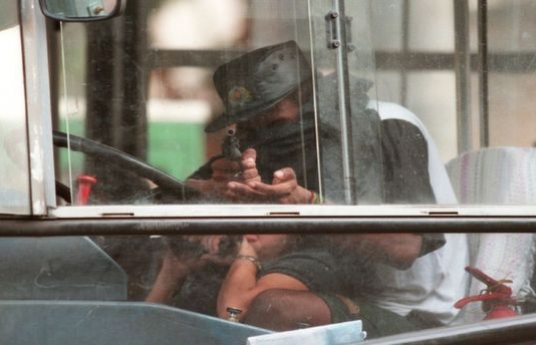 Download this press release
282 kB
Doha, Qatar, May 26, 2014:Doha Film Institute's Qatar Brazil 2014 Cinema Showcase in partnership with the Qatar Museums Authority continues this month with the gripping Brazilian documentary, 'Bus 174' by Jose Padilha and Felipe Lacerda. The screenings will take place at the Museum of Islamic Art (MIA) auditorium on Thursday May 29th and Friday May 30th at 7pm each night. 'Bus 174' takes a harsh look at how Brazil's state apparatus treats its disenfranchised people – especially its poor children – through interviews with street kids, police officers and sociologists.

'Bus 174'tells the story of 21-year-old Sandro do Nascimento who took several passengers hostage on a commuter bus in Rio de Janeiro on 12 June, 2000. Manic and unpredictable, the young man waved his gun around and threatened to kill everyone on the bus if his demands were not met. In a disturbing twist of events, the entire episode was broadcast on live television, and all of Brazil witnessed the shocking ineptitude of Rio's police in handling the terrifying situation. The hard-hitting, moving documentary holds back no punches and is a heartfelt call for social equality.

Tickets are now on sale at www.dohafilminstitute.com and at the MIA DFI Ticket Outlet*. Tickets are priced at QAR 35 for general public and a special discounted rate of QAR 25 for students.

The monthly programme of Brazilian films is presented in partnership with the Qatar Museums Authority to celebrate the Qatar Brazil 2014 Year of Culture. The initiative will continue throughout 2014 on the last weekend of each month, presenting a selection of exceptional classic and contemporary films that highlight the rich diversity of Brazil's cinematic history and bring audiences unforgettable works from internationally renowned directors.

For more information, please visit www.dohafilminstitute.com and look out for the next installment of screenings for the coming months.