Wajma (An Afghan Love Story) (Wajma)
Bader - ages 18+
Synopsis
In Competition

A man defuses bombs in the minefields – but he can't predict the huge explosion that is about to take place in his own family. His daughter Wajma is seduced by Mustafa, a waiter who charms her into having an illicit relationship. So begins a terrible chain of events: Wajma discovers she is pregnant; Mustafa rejects her; her father finds out about the situation; violence erupts.

'Wajma (An Afghan Love Story)', its title deliberately sardonic, takes an unblinking and unapologetic look at the reality of women caught in situations from which there is no escape. Although it relies on vivid settings and naturalistic performances, it is far more than a strong example of cinéma-vérité. Its realistic façade reveals an ingeniously crafted mise-en-scène that is charged with profound symbolism. Watching brutal dog fights in the streets of Kabul, a father losing his balance on slippery snow, or the bird's-eye view of a beautiful yet inhospitable landscape framed by the window of a plane, we cannot help but see in these images a direct expression of the characters' feelings.

Winner of the Screenwriting Award at Sundance 2013 and submitted as the official Afghan entry to the Academy Awards for best foreign language film, 'Wajma' could well turn out to be for Afghanistan what 'A Separation' was for Iran or '4 Months, 3 Weeks and 2 Days' was for Romania.

About the Directors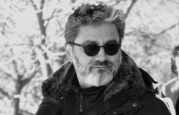 Barmak Akram, born in 1966 in Kabul, lives in Paris, where he studied fine arts. His first feature film, 'Kabuli Kid' (2008), won several awards and screened at the Venice Film Festival. He has also made experimental and documentary films, including 'Toutes les télés du monde' (2009). As a musician, interpreter and composer, he explores Afghan culture as well as Persian poetry.
Credits
Director

Barmak Akram

Screenwriter

Barmak Akram

Producer

Barmak Akram

Editor

Barmak Akram, Herve de luze, Isabelle Ingold

Music

Barmak Akram, Matthieu Chedid, Susheela Raman

Cinematographer

Barmak Akram

Sales Company

Kabuli Film- AFGHANISTAN

Production Company

Kabuli Film

Cast

Wajma Bahar, Mustafa Abdulsatar, Haji Gul, Breshna Bahar