Um Khalifa
Made in Qatar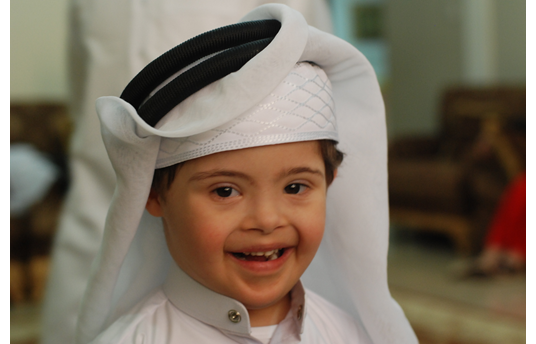 Synopsis
Ten-year-old Khalifa, the eldest of five children, was born with Down Syndrome. The condition means the boy is afflicted with a number of health issues as well as other developmental challenges. In this frank and affecting documentary, Khalifa's mother discusses the challenges she has faced, and the mistakes she has made, raising her wonderfully lovable and sociable child.
About the Directors
Alanood H. Al-Kuwari was born in Doha in 1994. She studied Electrical Engineering at Texas A&M University at Qatar with a minor in mathematics. Due to her strong academic record, Al-Kuwari is a member of the Institute of Electrical and Electronics Engineers and Eta Kappa Nu, the Electrical Engineering Society. She has a passion for art, photography and volunteering, and has recently become interested in cinema. 'Um Khalifa' is her first foray into filmmaking.
Noor AlKhaldi studies Electrical Engineering at Texas A&M University in Qatar. She enjoys reading books and watching movies. She loves photography, and she considers it her hobby. Recently, AlKhaldi started creating short films for the purpose of her study. She hopes to continue working on films in her free time.
Credits
Director

Alanood Al-Kuwari, Noor AlKhaldi

Screenwriter

Noor AlKhaldi, Alanood Al-Kuwari

Producer

Alanood Al-Kuwari, Noor AlKhaldi, Mohanalakshmi Rajakumar

Editor

Noor AlKhaldi

Cinematographer

Noor AlKhaldi, Alanood Al-Kuwari

Cast

Alanood Al-Kuwari, Noor AlKhaldi, Mohanalakshmi Rajakumar, Khalifa, Um Khalifa