Theeb
Hilal - ages 13+
Synopsis
In 1916, in a small Bedouin encampment in the Hejaz region of the Arabian desert, young Theeb and his elder brother Hussein go about their daily lives, watering the camels, learning to shoot rifles and horsing about with each other. Meanwhile, the First World War is consuming Europe, the Ottoman Empire is disintegrating, and the Arab Revolt is about to change life on the Arabian peninsula forever.
When a mysterious British soldier arrives at the camp in search of the boys' father, a late sheikh, Hussein is obliged by the Bedouin code of hospitality to honour the man's request to be taken to an ancient well situated on the route to Mecca. Unwilling to be left behind, Theeb follows the men in secret – only to find that he is on a far more significant journey than he ever could have imagined.
Employing a cast made up almost entirely of non-professional Bedouin actors, director Naji Abu Nowar organically creates an affecting coming-of-age story inflected with the epic scope of a classic Western. The result is a wonderful celebration of the astonishing beauty of the Arabian desert (the film is shot in Wadis Rum and Araba) and of a way of life that has been all but forgotten.
About the Directors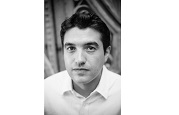 Naji Abu Nowar was born in the UK and lives and works in Amman. He wrote and directed the short film 'Death of a Boxer' (2009), which screened at international film festivals in Palm Springs, Dubai and Miam. 'Theeb', his feature film debut, premiered at the 71st Venice Film Festival, where he was named Best Director in the Orizzonti section. The film also won a Black Pearl Award at the Abu Dhabi Film Festival, and Abu Nowar was named 'Variety' magazine's Arab Filmmaker of the Year in 2014.
Credits
Director

Naji Abu Nowar

Screenwriter

Naji Abu Nowar, Bassel Ghandour

Producer

Bassel Ghandour, Rupert Lloyd

Editor

Rupert Lloyd

Executive Producer

Nadine Toukan

Music

Jerry Lane

Cinematographer

Wolfgang Thaler

Sales Company

Fortissimo Films

Production Company

Bayt Al Shawareb, Noor Pictures

Cast

Jacir Eid, Hassan Mutlag, Hussein Salameh, Jack Fox, Marji Audeh