The Night I Swam
Ajyal Competition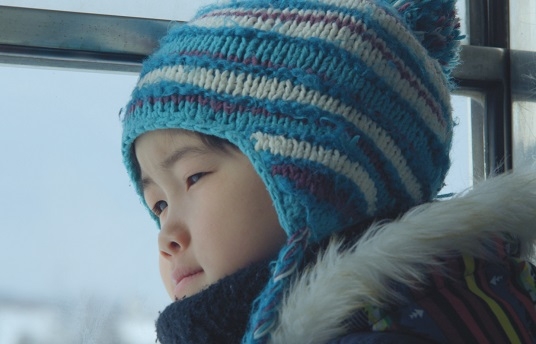 Synopsis
In the beautiful snow-covered mountains of Japan, a fisherman makes his daily trip to the market in a nearby town. His early departure wakes his six-year-old son, Takara, who has trouble getting back to sleep. Understandably drowsy from the night before, the boy struggles on his way to school and strays off the beaten path into the snow. Weighed down by his schoolbag, but without a care in the world, he rambles through an almost dream-like landscape as he sets off on a day-long escapade.

This charmingly innocent adventure is captured in stunning frames, and although void of dialogue, plays with engrossing ambient sounds. The film's beauty lies in this understated simplicity and silence, its essence being the lack of contact between Takara and his father and the absence of any communication between the pair. Through our knee-high hero, we begin to experience the world from a child's perspective, often becoming as lost as he is but enjoying the journey regardless. The film skips along from one entertaining event to another with sprinkles of suspense as we begin to wonder how such a little boy can sustain such a big adventure.

About the Directors
Damien Manivel has made several renowned shorts including 'The Lady with the Dog' (Jean Vigo Prize) and 'A Sunday Morning' (Cannes Critics Week Award). 'A Young Poet', his first feature film, received the Special Mention at Locarno Film Festival. His second feature film 'The Park' premiered at Cannes festival in 2016.
Kohei Igarashi directed his first feature film, 'Voice of Rain That Comes at Night', in 2008 which received the Critic's Award at Cinema Digital Seoul Film Festival. He went on to study at Tokyo University of Arts, where he made 'Hold Your Breath Like a Lover' as his final year student film, which was selected in competition at Locarno Film Festival in 2014.
Credits
Director

Damien Manivel, Kohei Igarashi

Producer

Damien Manivel, Martin Bertier, Makoto Oki

Editor

William Laboury

Music

Jérôme Petit

Cinematographer

Wataru Takahashi

Sales Company

Shellac

Production Company

MLD Films, Nobo, Shellac

Sound

Jérôme Petit

Cast

Takara Kogawa