Speed Sisters (Al Sabbaqat)
Special Screening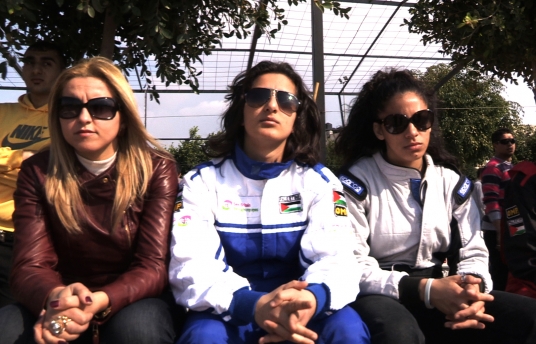 Synopsis
Meet Marah, Mona, Betty, Noor and Maysoon – the first all-woman rally-racing team in the Middle East. Passionate, dedicated and tough as nails, these five women are taking the auto-racing world of Palestine by storm, one screeching doughnut at a time.
Given the state of affairs in Palestine, it might come as a surprise that the nation has an organised racing culture in the first place. In fact, the Palestine Racing Federation owns no land and operates its events in empty lots, while drivers practise their techniques anywhere they can find enough space. Supported by their families, their friends and the racing community at large, the team members face down criticism, disappointment, arbitrary rulings and the ever-present restrictions brought about by the Israeli military occupation.
Director Amber Fares gains intimate access to the daily lives of her subjects, leaving no doubt that they were born to drive, but also finding the quieter moments that show us where their inner strength springs from. Fuelled by gasoline, girl power, the desire for freedom and a kickin' soundtrack, 'Speed Sisters' paints a high-octane portrait of a group of charismatic and resilient women who are living their lives on their own terms – and finding the glory they richly deserve.
About the Directors
Amber Fares, a Canadian-born filmmaker with Lebanese roots, resides in Ramallah. In the aftermath of 9/11, she left her career marketing some of Canada's biggest brands to deepen her understanding of life in the Middle East. In response to her experience, Fares co-founded SocDoc Studios to produce story-driven films that explore social issues. 'Ghetto Town' (2009), her directorial debut short, has been shown at film festivals around the world. 'Speed Sisters' is her first feature-length documentary.
Credits
Director

Amber Fares

Producer

Amber Fares, Avi Goldstein, Jessica Devaney

Editor

Rabab Haj Yahya

Cinematographer

Amber Fares, Lucy Martens

Sales Company

SocDoc Studios

Production Company

SocDoc Studios

Cast

Marah Zahalka, Noor Daoud, Betty Saadeh, Maysoon Jayyusi, Mona Ennab