Next Door Spy
Ajyal Competition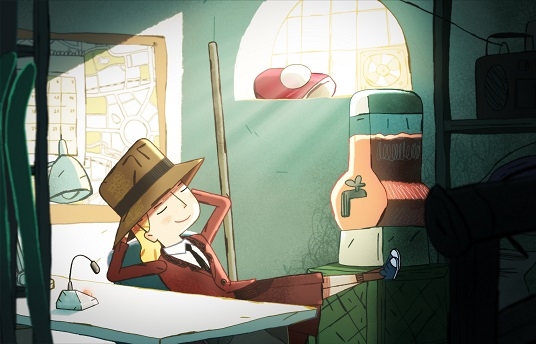 Synopsis
Ten-year-old Agathe-Christine, or 'AC' as she prefers to be called, dreams of becoming a private detective one day. Starting a small investigation bureau with the help of spy equipment and a lizard, she sets out to solve a spate of thefts that have been plaguing her local grocery shop. When she moves next door to the mysterious Vincent, AC immediately gets the sense that there's more to him than his carefree, reclusive personality lets on.

Determined to figure out what her new prime suspect's motivations are, AC begins to shadow the young skater Vincent, but she soon discovers more than she ever expected. A visually stunning story with hints of classic film noir, 'Next Door Spy' is a reminder that it is foolish to jump to conclusions about other people because not everything is what it may first seem. The film challenges archetypal characters as each protagonist is forced to look beyond the surface to appreciate the unique person that lies within.

About the Directors
Karla von Bengtson studied animation at the National Danish Film School. Her graduation film 'Skyggen i Sara' won prizes at the Berlinale and the Annecy International Animated Film Festivals. Her animated short 'Tigers and Tattoos' (2010) screened at multiple international film festivals. 'Next Door Spy' is her feature debut.
Credits
Director

Karla von Bengtson

Screenwriter

Karla von Bengtson

Producer

Mette Valbjørn Skøtt, Fie Ørnsø

Editor

Linda Jildmalm Animation

Executive Producer

Sarita Christensen

Co-Producer

Rodrigo Villalobos

Music

Nathan Larson, Lanre Odunlami

Sales Company

Copenhagen Bombay

Production Company

Copenhagen Bombay

Distributor

Falcon Films

Cast

Voices: Anne-Grethe Bjarup Riis, Simone Edemann Møgelbjerg, Oliver Bøtcher Herlevsen, Søs Egelind, Tommy Kenter, Kristine Sloth, Dar Salim, Albert Rudbeck Lindhardt, Mille Lunderskov & Harald Kaiser-Hermann