Machete (Machete)
World Panorama
Synopsis
He looked like just another day laborer from the streets, but he turned out to be Machete -- a legendary ex-federale with a deadly attitude and the skills to match. Portrayed by Danny Trejo, Machete is the latest grindhouse hero from "Sin City" writer/director Robert Rodriguez and is co-directed by Ethan Maniquis. Left for dead after clashing with notorious Mexican drug kingpin Torrez, Machete has escaped to Texas, where he finds a web of corruption and deceit that leaves a bullet in Senator McLaughlin, played by Oscar-winner Robert De Niro. Also featuring Don Johnson, Jessica Alba, Michelle Rodriguez, Cheech Marin and Steven Seagal, the film sees Machete setting out to clear his name and expose the deep conspiracy. Carving a path of bullets, blood, and broken hearts, Machete's quest ultimately leads him back to Torrez for an epic battle of revenge and redemption.

About the Directors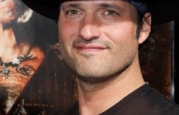 Robert Rodriguez
Robert Rodriguez
Born in San Antonio, Texas in 1968, Rodriguez made his initial splash as a do-it-yourself filmmaker with "El Mariachi," which he shot for $7,000 with money he made serving as a medical guinea pig. Since then, he's made hits including "Desperado," the "Spy Kids" trilogy, and "Sin City," co-directing the latter with comics artist Frank Miller.
Ethan Maniquis
Maniquis spent more than 15 years editing for Robert Rodriguez before earning his first major credit for "Planet Terror," Rodriguez's opening film in "Grindhouse." In addition to serving as an assistant editor on "Desperado" and "Four Rooms," he also appeared in "Sin City" and edited visual effects for the last two "Spy Kids" films.
Credits
Director

Robert Rodriguez, Ethan Maniquis

Screenwriter

Robert Rodriguez, Alvaro Rodriguez

Producer

Elizabeth Avellan, Aaron Kaufman, Iliana Nikolic, Robert Rodriguez, Rick Schwartz

Editor

Rebecca Rodriguez, Robert Rodriguez

Music

John Debney, Carl Thiel

Cinematographer

Jimmy Lindsey

Cast

Danny Trejo, Jessica Alba, Michelle Rodriguez, Robert De Niro, Steven Seagal, Don Johnson