Jacob, Mimmi and the Talking Dogs (Jēkabs, Mimmi un runājošie suņi)
Ajyal Competition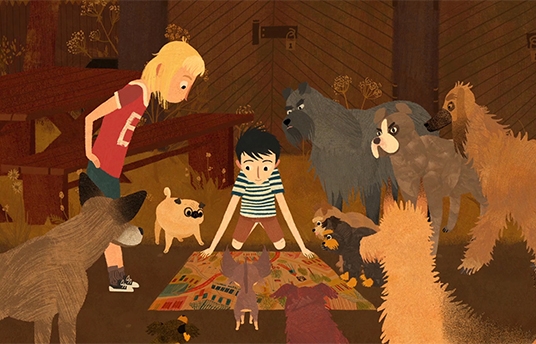 Synopsis
Seven-year-old Jacob dreams of becoming an architect, just like his busy dad, and spends most of his time drawing buildings and daydreaming while his father is at work. But when his dad needs to go out of town on a business trip, Jacob must spend a week in Maskachka, a historical suburb of Riga, with his bossy cousin Mimmi and her ex-seaman father Eagle. The neighbourhood's unique character immediately enchants Jacob, and with the chirpy, witty Mimmi as his guide, the pair explore its wooden houses, leafy parks and hidden charms

However, when the cousins discover that a businessman plans to transform a local parkland into skyscrapers, they know they must save the area—and find unexpected help from a pack of local dogs that can talk! Can an imaginative boy, his know-it-all cousin and a motley crew of talking dogs save their peaceful neighbourhood from a greedy developer? Based on the book by Luīze Pastore, this exciting summer adventure story about an unusual alliance features charmingly digital cut-out animation, perfect for younger audiences.


About the Directors
Edmunds Jansons is an animation film director, graphic designer, and children's book illustrator. Jansons founded the animation film studio Atom Art which has over the last few years, grown into one of the most prominent animation studios in Latvia. In 2012, he graduated with an MA from the Estonian Academy of Art, and is the author of award-winning animation shorts 'International Father's Day' (2012), and 'Isle of Seals' (2014), and director of the pre-school series 'Shammies' (2015).
Credits
Director

Edmunds Jansons

Screenwriter

Liga Gaisa, Edmunds Jansons

Producer

Sabine Andersone

Editor

Edmunds Jansons, Michal Poddebniak

Production Designer

Elina Braslina

Co-Producer

Jakub Karwowski, Piotr Szczepanowicz

Sales Company

New Europe Film Sales

Production Company

Atom Art

Cast

Voices: Jacob Eduards Olekts, Mimmi Nora Džumā, Boss Andris Keišs, Dad Kaspars Znotiņš, Eagle Gatis Gāga, Mrs. Schmidt Māra Liniņa, Manny Pie Eduards Zilberts