Ice Merchants
Ajyal Competition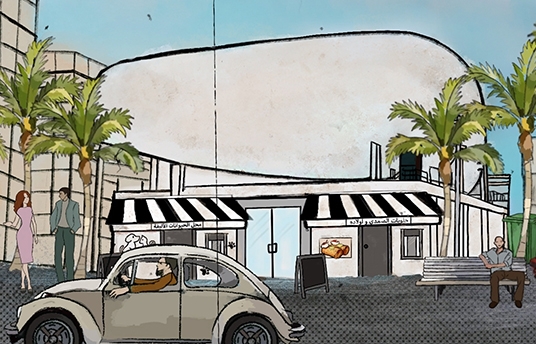 Synopsis
Every day, a father and his son jump with a parachute from their house attached to a cliff high in the cold mountains. They carry with them their precious cargo of ice that they produce by freezing water outside their sub-zero home. One day the temperature begins to creep above freezing leading to dire consequences for the family in this foreboding animation about climate change and its effects.
About the Directors
Four-time Academy Award winner Nick Park began working with the Aardman Animations studio in 1985. He is best known for his animated characters Wallace and Gromit, and Shaun the Sheep, for his 'Creature Comforts' series, and for the feature-length animated films 'Chicken Run' (2000) and 'Wallace and Gromit: The Curse of the Were-Rabbit' (2005).
Alessandra El Chanti is a Lebanese documentary filmmaker, activist, and artist. Her interests lie in the stories of the Levant, ranging from its culture, social issues, and politics. El Chanti holds an MFA in Documentary Media from Northwestern University.
João Gonzalez is a Portuguese director, animator, illustrator, and musician with a classical piano background. With a scholarship from the Calouste Gulbenkian Foundation, he achieved his master's degree at the Royal College Art (UK), after finishing his degree at ESMAD (PT). In these institutions, he directed two films, 'Nestor' and 'The Voyager', that together received more than 20 national and international awards, as well as more than 130 official selections in film festivals around the world.
Credits
Director

João Gonzalez

Screenwriter

João Gonzalez

Producer

Bruno Caetano

Editor

Alessandra El Chanti

Co-Producer

Michaël Proença

Editor

João Gonzalez

Music

Joey Semaan

Sound

Ed Trousseau, Ricardo Real, Joana Rodrigues

Mixing

Ed Trousseau

Sound

Marc Makhlouf

Music

João Gonzalez

Distributor

Agência - Portuguese Short Film Agency

Cast

Mohamed El Chanti, Issam Younes, Laeticia Semaan