Horus: Prince of the Sun (Taiyō no Ōji: Horusu no Daibōken)
Hilal - ages 13+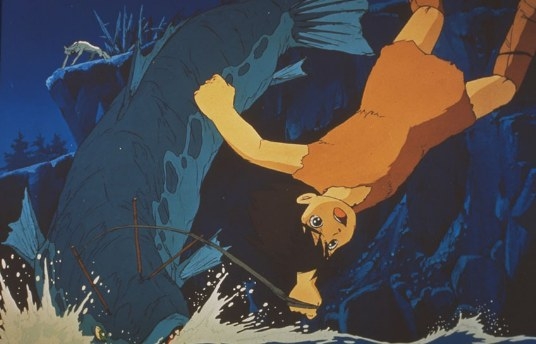 Screenings
Fri, Nov 29, 07:00 PM, Sony Open-Air Cinema (K-SOAC)

Free screening
Synopsis
Special Screening - Focus on Anime

Inspired by an ancient Japanese legend but set in Scandinavia, 'Horus: Prince of the Sun' is considered one of the forerunners of contemporary anime.

To comply with a promise he made to his dying father, young Horus embarks on a dangerous mission to defeat the evil sorcerer Grunwald and restore peace in the region. His most powerful weapon turns out to be the magic sword that he manages to pull from the shoulder of a Rock Giant named Mogue. But before he can succeed in his quest, Horus will have to win over some mistrustful villagers, divert the devious trickery of a mysterious girl, and fight a pack of ferocious wolves…

In 2001, Japanese magazine 'Animage' elected 'Horus' the third-best anime production of all time – a bold statement, yet symptomatic of the huge influence this film has had in the history of anime. Released in 1968, it marks the first collaboration of Isao Takahata and Hayao Miyazaki (here credited as Chief Animator). Several years later, the two would found the legendary Studio Ghibli, but the hallmarks of their work, both stylistically and conceptually, already appear here in theirs earliest stages: ancient mythology, powerful magic, epic battles between good and evil, and themes like courage, love, honesty and friendship – in short, the entire fascinating universe of Japanese anime.

About the Directors
Isao Takahata was born in 1935 and studied French Literature at the University of Tokyo. Considered one of the most important directors, screenwriters and producers of anime films, he became intrigued by animation after watching Paul Grimault's animated feature 'The King and the Mockingbird' (1952). After 'Horus: Prince of the Sun' (1968), his feature-length debut, he directed several episodes of television series. In 1985, he co-founded Studio Ghibli with his long-time collaborative partner Hayao Miyazaki. His films include 'Grave of the Fireflies' (1988), 'Only Yesterday' (1991), 'Pom Poko' (1994) and 'My Neighbours the Yamadas' (1999).
Credits
Director

Isao Takahata

Screenwriter

Kazuo Fukazawa

Producer

Hiroshi Okawa

Sales Company

Toei Company

Production Company

Toei Company

Cast

Hisako Okata, Etsuko Ichihara, Mikijiro Hira, Junko Hori, Eijiro Tono