Hayati (Hayati (My Life))
Special Screening
Synopsis
In 2015, Ossamah Al Mohsen and his 8-year-old son were tripped up by a TV reporter as they attempted to cross the Hungarian border. The moment was captured on film, and it soon became one of the most iconic images of the Syrian conflict. The footage appalled the world, and Osama was thrust into the limelight, becoming a reluctant symbol of the unfair treatment of migrants. The unfortunate incident and resulting media interest nevertheless allowed Ossamah, a famous soccer coach in his home country of Syria, to arrive in Madrid and resume his profession. But the rest of his family did not have the same luck.

The film follows the story of Ossamah and his family as they desperately try to reunite with each other. We also meet Moatassam, Youssef and Muhannad, three promising Syrian footballers who were robbed of the best years of their lives by war. 'Hayati' is a powerful reflection on the fate of thousands of Syrian families displaced around the world, all hoping to return home one day or find a new one where they are.

About the Directors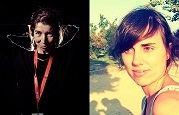 Liliana Torres, also an ESCAC graduate, made her debut in 2013 with 'Family Tour', which premiered at the San Sebastián International Film Festival. Her films blur the lines between fiction and documentary, combining elements of both genres.
Sofi Escudé graduated from ESCAC in 2013 and has worked as an editor on films such as 'Camera / Woman', 'Somos Gente Honrada' and 'La Guerre du Golf'.
Credits
Director

Sofi Escudé, Liliana Torres

Screenwriter

Sofi Escudé, Liliana Torres

Producer

Bernat Manzano, Valérianne Boué

Editor

Sofi Escudé, Liliana Torres

Music

Joan Pons, Gès Burgès

Cinematographer

Alberto Borque, Gris Jordana

Sales Company

Doc & Film International

Production Company

Boogaloo Films