Flying Paper
Bariq - ages 4+
Synopsis
Special Screening

This uplifting documentary portraying the quest of a group of youths in Gaza to break the Guinness World Record for the most kites ever flown is also a profound metaphor for the power of imagination confronting the constraints of a difficult reality.

The film follows Musa, a confident young kite-maker in the village of Seifa, his sister Widad, and 16-year-old Abeer, who lives in a refugee camp and dreams of becoming a journalist, as they prepare for the much-anticipated kite festival where the record-breaking event is expected to take place. We discover the daily struggles of these young people, who are determined to rise above their tough situation – just as their kites soar over the ruins of bombed buildings. The challenges of living in Gaza – and the resilience of these children who want to fulfill their dreams of freedom – couldn't be expressed in a more striking way. As Widad says, "When we fly kites, we feel like we are the ones flying in the sky. We feel that we have our freedom; that there is no siege on Gaza".

Flying Paper won the Award of Excellence for Best Documentary Feature at the International Film Festival for Peace, Inspiration and Equality.


About the Directors
Roger Hill
Roger Hill founded the documentary production collective MentalRev Productions. 'Struggle', his first feature-length documentary, was chosen by Link TV as their featured documentary leading up to the 2012 US presidential election. Hill has produced several short films and has worked as a trainer with the Voices Beyond Walls media programme in Gaza.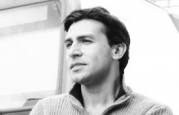 Nitin Sawhney
Nitin Sawhney is Assistant Professor of Media Studies at the New School. In 2006, Nitin co-founded Voices Beyond Walls, a nonprofit initiative that conducts video and storytelling workshops with youth in Palestinian refugee camps in the West Bank and Gaza. Over a five-year period, the programme produced nearly 70 video shorts.
Credits
Director

Nitin Sawhney, Roger Hill

Screenwriter

Nitin Sawhney, Roger Hill

Producer

Uzma Hasan, Paul Lee, Anne Paq, Abeer Ahmed

Editor

Rafael Parra, Ahmed Elabd, Roger Hill

Music

Nitin Sawhney - Universal Music Publishing (U.K.)

Cinematographer

Nitin Sawhney, Roger Hill, Anne Paq

Sales Company

Little House Productions

Production Company

The New School

Cast

Musa Al Ghoul, Widad Al Ghoul, Abeer Ahmed, Abu Ziad Al Ghoul, Mohammed Al Khateb, Attia Ahmed