Difret
Bader - ages 18+
Synopsis
Three hours outside Addis Ababa, Hirut, a bright 14-year-old girl was kidnapped on her way home from school by a man and his friends, following a traditional practice of abducting women for marriage. Trying to escape, Hirut wound up shooting her would-be husband with his own rifle. Now the girl faces a complex legal trial, while the men of the village call for her execution.
Hirut's counsel is Meaza Ashenafi, a tenacious Ethiopian lawyer who works for an organisation that provides free legal aid to women who are victims of violence. The case becomes a perilous fight against law and tradition, especially when Meaza risks everything to sue the Ministry of Justice.
Winner of Audience Awards at both the Sundance and Berlin film festivals, 'Difret' is a powerful, real-life story that unfolds like a courtroom drama, addressing important facets of social justice and women's rights. Directed by first-timer Zeresenay Berhane Mehari, with Angelina Jolie as executive producer, 'Difret' is the Ethiopian entry for the Best Foreign Language Film at the 2015 Academy Awards.

About the Directors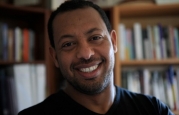 Born and rasied in Ethiopia, writer-director Zeresenay Mehari moved to the USA to study film at the University of Southern California's School of Cinematic Arts. He founded the production company Haile Addis Pictures to produce his feature film debut 'Difret'. Previously, he directed the short film 'Coda' (2006) and worked as line producer on 'Africa Unite: A Celebration of Bob Marley's 60th Birthday' (2008).
Credits
Director

Zeresenay Mehari

Screenwriter

Zeresenay Mehari

Producer

Mehret Mandefro, Leelai Demoz, Zeresenay Berhane Mehari

Editor

Agnieszka Glinska

Music

David Schommer, David Eggar

Cinematographer

Monika Lenczewska

Sales Company

Films Boutique

Production Company

Haile Addis Pictures

Distributor

Moving Turtle

Cast

Meron Getnet, Tizita Hagere, Shetaye Abreha, Mekonen Leake, Meaze Tekle, Tefari Alemu, Girma Teshome, Brook Sheferaw