#chicagoGirl: The Social Network Takes On a Dictator
Bader - ages 18+
Synopsis
The power of the Internet to bring people together is very much in evidence as in this film, in which a young Syrian woman assists the revolution in her home country from her bedroom in Chicago. Using her online connections to Syrian rebels, 19-year-old college student Ala'a uses social media to contribute to protests against the ruling regime in Syria.
As the war on the ground becomes more intense, Ala'a's focus changes. She begins working with the rebels to upload their surreptitiously shot videos to the 'net, exposing the current regime's abuse of the Syrian people to the cyber-community. The dark side of activism comes into full focus, as we learn that social media, with its evidence of interpersonal connections, is a powerful weapon for the Syrian government as well as those who oppose it; and hear of death threats received by Aaliya herself.
But equally as inspiring as the actions of the rebels on the ground, and more incredible than the power of the Web, is the devotion, drive and sheer stamina that Ala'a demonstrates in her battle to save her homeland. '#chicagoGirl' is a timely testament to the passion of youth.
About the Directors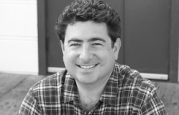 Joe Piscatella was born in 1972 in Gig Harbor, Washington. Since graduating from the University of Southern California, he has written numerous film and television projects. His writing credits include the television series 'Stark Raving Mad' (1999-2000), the animated series 'Ozzy & Drix' (2002-2003), and the Disney feature film 'Underdog' (2007). He has written television pilots for 20th Century Fox and Touchstone Television. '#chicagoGirl: The Social Network Takes On a Dictator' is his directorial debut.
Credits
Director

Joe Piscatella

Screenwriter

Joe Piscatella

Producer

Mark Rinehart

Editor

Matthew Sultan

Music

Huma-Huma

Cinematographer

Bassel Shahade, Rob Hauer

Sales Company

Preferred Content

Production Company

Revolutio LLC

Cast

Ala'a Basatneh, Aous al Mubarak, Bassel Shahade