Central Airport THF (Zentralflughafen THF)
Ajyal Competition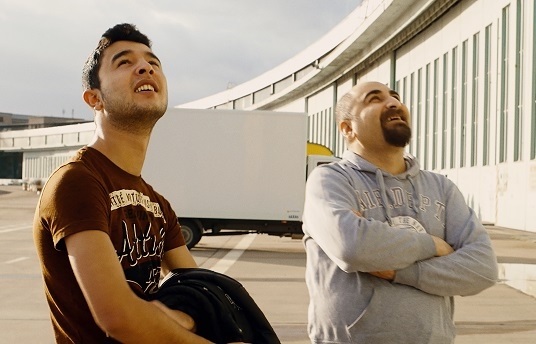 Synopsis
Built in the 1920s and remodelled as an architectural showcase in the 1930s, Berlin Tempelhof Airport was once among the world's twenty largest buildings. Officially closed in 2008, the colossal structure still remains a place of arrivals and departures. Today its massive hangars are used as one of Germany's largest emergency shelters for asylum seekers, like 18-year-old Syrian student Ibrahim and Iraqi physiotherapist Qutaiba. We follow them as they adjust to a transitory daily life of social services interviews, German lessons and medical exams, all the time struggling to cope with homesickness and the anxiety of whether they will gain residency or be deported.

Director Karim Aïnouz gracefully combines the large architectural forms of the airport with a profound sensitivity to the intimate moments of the refugees who live there. Throughout the film, he cuts to local Germans using the park along the airport's perimeter. We see everything from kids on Segways to joggers skirting the fence, continually reminding us of the "normal" life that awaits just outside the omnipresent barrier.

About the Directors
Karim Aïnouz is a film director and visual artist. His most recent feature, 'Praia do Futuro' (Futuro Beach), premiered in Competition at the 2014 Berlinale. 'Cathedrals of Culture', a 3D film project about the soul of buildings which features Aïnouz as one of the directors and Wim Wenders as executive producer premiered at the Berlinale Special section that same year.
Credits
Director

Karim Aïnouz

Producer

Felix von Boehm

Editor

Felix von Boehm (Commissioning editor: Søren Schumann)

Co-Producer

Charlotte Uzu, Diane Maia, Joana Mariani

Music

Benedikt Schiefer

Cinematographer

Juan Sarmiento G.

Sales Company

LUXBOX

Production Company

Lupa Film, rbb/ARTE

Sound

Moritz Springer

Mixing

Florian Beck

Cast

Ibrahim Al Hussein, Quitaiba Nafea