After Yang
Ajyal Competition
Synopsis
Based on a short story by Alexander Weinstein, 'After Yang' is a compelling drama set in the alarmingly near future where domestic robots pervade our daily lives. A young couple, Jake and Kyra, adopt a daughter named Mika. To help her understand her place of birth and culture more, they also purchase an android as a carer and teacher—Yang. Forming a strong bond with her new companion, Mika is inconsolable when Yang malfunctions. As a discontinued model that was bought outside of the conventional channels, Jake faces an existential quest to repair Yang.

In the process, Jake uncovers secrets of the android's previous life buried deep inside Yang's core. Watching the fragmented memories of another from the outside, Jake realises his own life has been passing him by too. Through introspection and self-discovery, Jake begins to bridge the gaps in his family and reconnects with his wife and daughter across a distance he didn't know was there. A reflective and thoroughly intriguing film, 'After Yang' is a contemplation on humanity, empathy, kinship and questions the nature of what it means to be truly alive.
About the Directors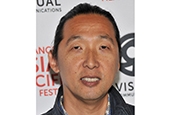 Kogonada—the name is a pseudonym—is a South Korean-born American filmmaker. He is known for his video essays that analyse the content, form, and structure of various films and television series. The essays frequently use narration and editing as lenses, and often highlight a director's aesthetic. Kogonada is a regular contributor to Sight & Sound magazine and is frequently commissioned by The Criterion Collection to create supplemental videos for its home-video releases. Kogonada's debut film, 'Columbus', starring John Cho and Haley Lu Richard, premiered at the 2017 Sundance Film Festival. He wrote and directed his second feature 'After Yang' for A24, starring Colin Farrell and Jodie Turner-Smith.
Credits
Director

Kogonada

Screenwriter

Kogonada

Producer

Theresa Park, Andrew Goldman, Caroline Kaplan, Paul Mezey

Executive Producer

Philipp Engelhorn

Cinematographer

Benjamin Loeb, FNF

Editor

Kogonada

Production Designer

Alexandra Schaller

Sales Company

A24

Music

Aska Matsumiya, Ryuichi Sakamoto

Distributor

Front Row Filmed Entertainment

Cast

Colin Farrell, Jodie Turner-Smith, Justin H. Min, Malea Emma Tjandrawidjaja, Sarita Choudhury, Clifton Collins Jr., Ritchie Coster, Haley Lu Richardson