Sun Children (Khorshid)
Ajyal Competition - Ajyal Film Festival 2020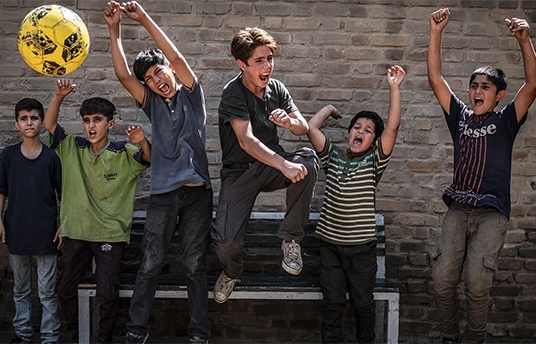 Synopsis
The captivating story of 12-year-old Ali and his three friends who work hard to survive on the streets of Tehran. The boys support their families by doing odd jobs in a garage and committing petty crimes on the side to make fast money. In a turn of events that seems almost miraculous, Ali is entrusted to find a hidden treasure underground. He recruits his gang, but first, to gain access to the tunnel, the children must enrol at the Sun School—a charitable institution that tries to educate street kids and child labourers—close to where the treasure is located.
The Sun School, facing money problems of its own, is initially reluctant to take the boys in until Vice Principal Mr. Rafie, impressed by a show of passion, intercedes on their behalf. The natural ingenuity of the kids is evident, using their building site experience to solve geometry problems, wire drills to light fittings, and even fix the school's temperamental bell. A spellbinding and absorbing film, as you would expect from renowned director Majid Majidi, who dedicates it to the 152 million children globally, forced to work and so deprived of an education that would allow them to uncover the true buried treasure—their full potential.
About the Director
ND, 27 Oct 2012
Award-winning Iranian director Majid Majidi was born in 1959 and was raised in Tehran. His debut film, 'Baduk' (1992), was presented at the Directors' Fortnight at Cannes. 'Children of Heaven' (1997) won the Best Picture at the Montreal World Film Festival and was nominated for Best Foreign Film Academy Award.
Credits
Director

Majid Majidi

Screenwriter

Majid Majidi, Nima Javidi

Producer

Majid Majidi, Amir Banan

Editor

Hassan Hassandoust

Executive Producer

Mehdi Badrlou

Composer

Ramin Kousha

Cinematographer

Hooman Behmanesh

Sales Company

Celluloid Dreams

Sound

Mohammad Reza Delpak

Set Designer

Keyvan Moghadam

Cast

Ali Nasirian. Javad Ezzati, Tannaz Tabatabaie, Rouhollah Zamani, Mahdi Mousavi, Shamila Shirzad, Abolfazl Shirzad, Mani Ghafouri, Safar Mohammadi, Ali Ghabeshi, Babak Lotfi