Sorry We Missed You
Ajyal Competition - Ajyal Film Festival 2019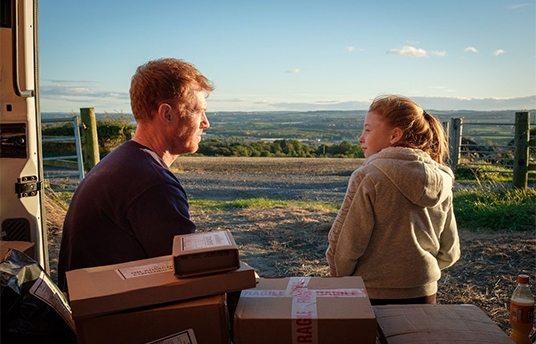 Synopsis
Ricky and his family have been fighting an endless struggle against debt since the 2008 financial crash, which left them unable to save for a mortgage. An opportunity to wrestle back some semblance of independence appears with a chance to run a franchise as a self-employed delivery driver. It's hard work, and his wife's job as a care worker is no easier—with both of them forced into 'zero-hour' contract work, void of any real employment benefits or job security. Their relationship is strong, but the strain these circumstances puts on them as a family is palpable as they struggle to keep their heads above water on a tight-rope budget.

A compelling story of escalating misfortunes, 'Sorry We Missed You' is a gritty and empathetic portrait of a family desperately trying to make ends meet in modern-day England. The film incisively shows the sometimes-brutal human cost of unbridled economic development, and its enduring tragedy lies in the worrying realisation that no amount of hard work, love and goodwill can save people when the cards are so decidedly and unfairly stacked against them.

About the Director
Ken Loach attended King Edward VI Grammar School and went on to study law at St. Peter's Hall, Oxford. After a brief spell in the theatre, Loach was recruited by the BBC in 1963 as a television director. This launched a long career directing films for television and the cinema, from 'Cathy Come Home' and 'Kes' in the sixties to more recently 'Land and Freedom', 'Sweet Sixteen', 'The Wind that Shakes the Barley' (Palme d'Or, Cannes Film Festival 2006), 'Looking for Eric', 'The Angels' Share' and 'I, Daniel Blake' (Palme d'Or, Cannes Film Festival 2016).
Credits
Director

Ken Loach

Screenwriter

Paul Laverty

Producer

Rebecca O'Brien

Editor

Jonathan Morris

Production Designer

Fergus Clegg

Executive Producer

Pascal Caucheteux, Grégoire Sorlat, Vincent Maraval

Music

George Fenton

Cinematographer

Robbie Ryan

Sales Company

Wild Bunch

Production Company

SIXTEEN FILMS, WHY NOT PRODUCTIONS, Les Films du Fleuve

Sound

Kevin Brazier

Assistant Director

David Gilchrist

Distributor

TELEVIEW International S.A.L.

Cast

Kris Hitchen Debbie Honeywood Rhys Stone Katie Proctor Ross Brewster Charlie Richmond Julian Ions Sheila Dunkerley Maxie Peters Christopher John Slater Heather Wood Alberto Dumba Natalia Stonebanks Jordan Collard Dave Turner Stephen Clegg