On the Way to School (Sur le chemin de l'école)
Mohaq - ages 8+ - Ajyal Youth Film Festival 2013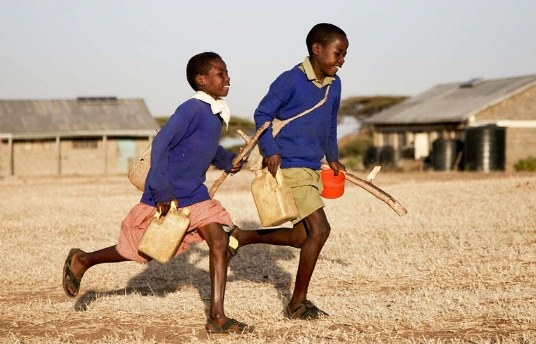 Synopsis
Special Screening

"Too often," states a caption at the beginning of 'On the Way to School', "we forget that education is a privilege." It's hard to imagine better or more inspiring examples of this than these four parallel stories.

In Kenya, Jackson has to cross 15 kilometres of savannah – and avoid dangerous elephants – to get to school. Determined to become a pilot, he wants to travel the world and provide a future for his family. Halfway around the world in Patagonia, Carlos and his sister Mica ride 18 kilometres on horseback to attend classes. Carlos wants to work as a veterinarian, while Mica dreams of becoming a teacher.

In Morocco, Zahira undertakes a weekly 22-kilometre journey over the Atlas Mountains to reach the boarding house where she stays during the school week. Meanwhile, in the Bay of Bengal, Samuel, who is confined to a wheelchair, is pushed and carried more than four kilometres every day by his younger brothers; both Samuel and Zahira hope to be doctors one day.

Documentarist Pascal Plisson travelled the world to assemble this epic collection of the journeys of kids who, undeterred by obstacles of any kind, set off on extraordinary paths to acquire an education and improve their lives.

This screening is presented in collaboration with the Education Above All Foundation, whose Educate A Child Programme seeks to reduce the number of children who are denied the right to education.

With the support of the French Embassy in Qatar.

About the Director
Pascal Plisson is a director, writer and cinematographer. His films include 'Masai: The Rain Warriors' (2004), 'Les Mystères de Clipperton' (2005) and two episodes of the TV Series 'Mutual of Omaha's Wild Kingdom' ('Cheetahs: Fast and Furious' and 'Elephant Family: Bonds for Life').
Credits
Director

Pascal Plisson

Screenwriter

Marie Claire Javoy

Producer

Laurent Ferlet, Stephanie Schorter Champenier

Editor

Sarah Anderson

Music

Laurent Ferlet

Cinematographer

Pascal Plisson

Sales Company

Wild Bunch

Production Company

Winds, Ymagis, Herodiade

Cast

Jackson Saikong, Salome Saikong, Samuel J. Esther, Gabriel J. Esther, Emmanuel J. Esther, Zahira Badi, Noura Azaggah, Zineb Elkabli, Carlito Janez, Micaela Janez
Contacts