Land of Dreams
Special Screening, Ajyal at Vox, Ajyal at Katara - Ajyal Film Festival 2021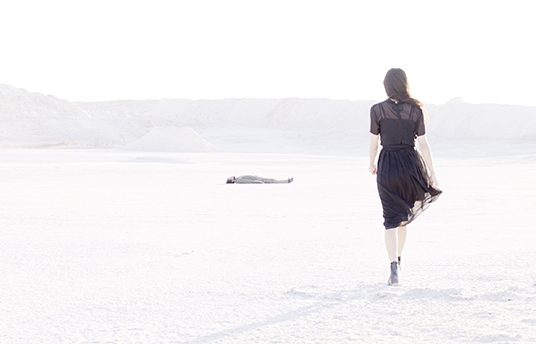 Synopsis
Simin is an Iranian woman on a journey to discover what it means to be a free American. She works for the Census Bureau, which, in an effort to control its citizens, has begun a programme to record their dreams. Unaware of this devious plot, Simin is torn between her compassion for those whose dreams she is recording and a truth she must find within. Haunted by the fact that her father was executed in Iran, Simin has developed a coping mechanism through a world of fantasy and playacting. She captures her interviewees' dreams, secretly impersonates them in Farsi and publishes them on social media, where she finds a growing Iranian audience.

Soon Simin meets Mark; a drifter, a free soul, and a poet who declares his love for her at first sight; and Alan, a cynical cowboy turned detective, full of machismo and the American spirit of adventure. As Simin enters the triad, she finds the two men's competition and conflicts amusing and silently enjoys the ride. Playful and poignant, 'Land of Dreams' acknowledges in a surreal and satirical way, the greatness of the American experiment while offering a warning beacon for what could come.
About the Director
Born in Qazvin, Iran in 1957, Shirin Neshat is an Iranian artist and filmmaker living in New York. She has been the recipient of the Golden Lion Award at the 48th Venice Biennale (1999), and the Silver Lion Award at the 66th Venice Film Festival (2009), for her first feature film 'Women Without Men'. Shirin Neshat's second feature film 'Looking for Oum Kulthum' (2017), which screened at Ajyal 2017, was based on the life of the legendary Egyptian singer Oum Kulthum. Shirin is also world-renowned for her video art installations, the latest being 'Land of Dreams', which she developed together with this film.
Shoja Azari was born in Shiraz, Iran in 1957. Azari is a visual artist and filmmaker living in New York. He has directed several feature films, including 'K', based on three short stories by Franz Kafka (2000); 'Windows' (2006); 'Simple Little Lives' (2015); and 'Badria' (2017). Azari has been a long-time collaborator with visual artist Shirin Neshat, co-directing 'Women Without Men', and 'Looking for Oum Kulthum'. Azari's artworks have been widely exhibited internationally and are in major museum collections.
Credits
Director

Shirin Neshat, Shoja Azari

Screenwriter

Jean-Claude Carrière, Shoja Azari

Producer

Amir Hamz, Sol Tryon, Christian Springer

Editor

Mike Selemon

Executive Producer

Amir Neshat, Shirin Neshat, Fahri Yardim, Mark Amin

Music

Michael Brook

Cinematographer

Ghasem Ebrahimian

Sales Company

Beta Cinema

Production Company

Bon Voyage Films GmbH, Palodeon Pictures LLC, Land of Dreams LLC

Sound

Scott Hirsch, Craig Parker, Stefan Chakerian

Set Designer

Rick Gilbert

Distributor

Beta Cinema

Cast

Sheila Vand, Matt Dilllon, William Moseley, Isabella Rossellini