It Must Be Heaven
Special Screening - Ajyal Film Festival 2019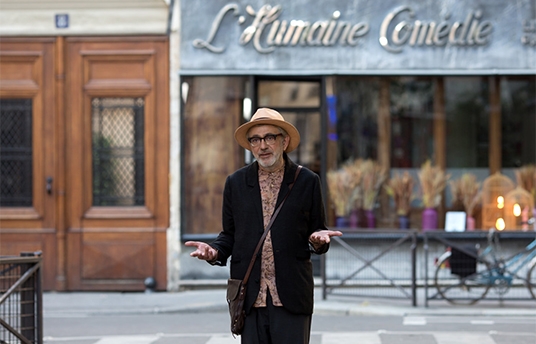 Synopsis
Award-winning Palestinian auteur Elia Suleiman masterfully uses his penetrating gaze and expressive body language to distil the soul of Palestine, and nowhere is this more evident than in his new surreal comedy 'It Must Be Heaven'. Leaving his homeland for the bustling metropolises of Paris and New York, Suleiman turns his signature observational style from Palestine to a broader world, full of comparable tension, absurdity and paranoia. In each new city, Suleiman is wide-eyed with curiosity and wonder at the daily lives of the respective inhabitants, yet time and again, something always seems to remind him of home.



Speaking just four words in the entire film, Suleiman has an almost effortless ability to convey so much meaning in his facial expressions, and the film brings an abundance of the sadly-forgotten art of silent comedy roaring into the 21st century. Winner of the Jury Special Mention and FIPRESCI Critics' Award at this year's Cannes Film Festival, and Palestine's entry for the Best International Feature Film at the 92nd Academy Awards—'It Must Be Heaven' is a comic saga exploring identity, nationality and belonging, in which Suleiman asks the fundamental question: where is the place we can truly call home?
About the Director
Born in Nazareth in 1960, Palestinian filmmaker Elia Suleiman directed his first two short films while living in New York between 1981-1993. In 1994, Suleiman returned to Jerusalem to create a Film and Media Department at Birzeit University. His feature debut, 'Chronicle of a Disappearance', won the Best First Film award at the 1996 Venice Film Festival. In 2002, 'Divine Intervention' won the Jury Prize at the Cannes Film Festival and the Best Foreign Film prize at the European Awards in Rome. His feature, 'The Time That Remains', screened in competition at the 2009 Cannes Film Festival.
Credits
Director

Elia Suleiman

Producer

Édouard Weil, Laurine Pelassy, Elia Suleiman, Thanassis Karathanos, Georges Schoucair, Zeynep Atakan

Editor

Véronique Lange

Production Designer

Caroline Adler

Executive Producer

Fatma Hassan Alremaihi, Hanaa Issa

Cinematographer

Sofian El Fani

Sales Company

Wild Bunch

Production Company

Rectangle Productions. Nazira Films, Pallas Film, Possibles Media, Zeyno Film

Distributor

MC Distribution

Cast

Elia Suleiman, Gael García Bernal, Tarik Kopti, Kareem Ghneim, George Khleifi, Ali Suleiman, Fares Muqabaa, Yasmine Haj, Nael Kanj, Asmaa Azaizy, Grégoire Colin, Vincent Maraval, Claire Dumas, Antoine Cholet, Eric Cornet, Yumi Narita, Kengo Saito, Stephen