Disappearance (Napadid Shodan)
Ajyal Competition - Ajyal Youth Film Festival 2017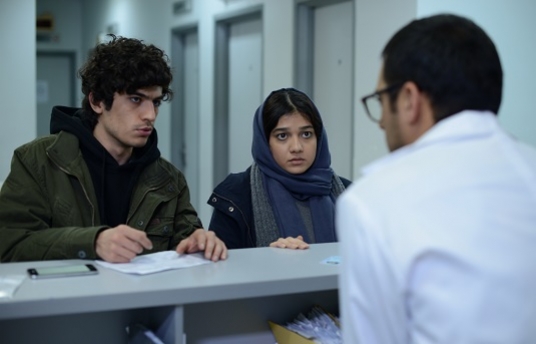 Synopsis
In an Iranian culture that operates within strict social mores, Sara, a university student, and her boyfriend Hamed allow their youthful naïveté to get the best of them. Unexpectedly, Sara is injured and in need of surgery – but because the young couple have a secret to hide, none of the hospitals, whether public or private, that they visit will give Sara any more than the most rudimentary of help. As the night wears on, Sara's medical requirements become more urgent, solutions become increasingly far-fetched, and the pair's relationship teeters on the brink of collapse.

As the troubled couple at the centre of the film, first-time actors Sadaf Asgari and Amir Reza Ranjbaran shine in remarkably natural performances that capture all the awkwardness of early adulthood – somewhere between bewilderment and indignation – when faced with perhaps unfair social regulation. While director Ali Asgari's film criticises to some extent the highly regimented and perhaps invasive nature of the Iranian state, it rather more pointedly questions the lack of compassion of individuals who hold authority within the system – whether they are following the rules or exploiting the need to break them. 'Disappearance' is an exploration of what hangs in the balance if bleakness overpowers hope.
About the Director
Ali Asgari is an Iranian filmmaker who studied cinema in Italy. An alumnus of the Berlinale Talent Campus 2013, his short films 'More than Two Hours' (2013) and 'The Silence' (2016) were both in competition for the Palme d'Or at the Festival de Cannes, and both screened at the Ajyal Youth Film Festival in Doha, while 'The Baby' competed at the Venice Film Festival 2014. His films have been screened at more than 500 festivals around the world, and have won more than 100 awards. Currently, Asgari is working on his first feature-length film, 'Disappearance', which was developed at the Cinéfondation Residence, under the umbrella of the Festival de Cannes.
Credits
Director

Ali Asgari

Screenwriter

Farnoosh Samadi, Ali Asgari

Producer

Pouria Heidary Oureh, Ali Sadraei

Editor

Ehsan Vaseghi

Production Designer

Saeid Asadi

Music

Yishai Adar

Cinematographer

Ashkan Ashkani

Sales Company

New Europe Film Sales

Production Company

Three Gardens Film, Taat Productions

Sound

Hossein Ghourchian

Cast

Sadaf Asgari, Amir Reza Ranjbaran, Nafiseh Zare, Sahar Sotoodeh, Mohammad Heidari
Contacts