Dear Future Children
Ajyal Competition, Ajyal at Vox - Ajyal Film Festival 2021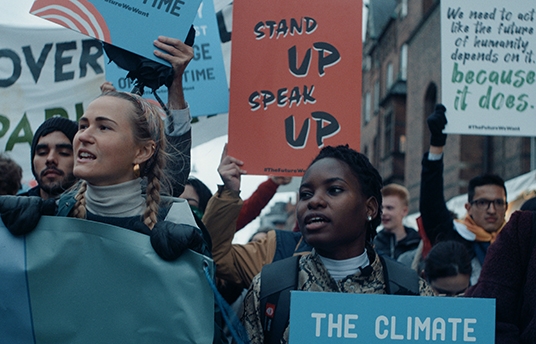 Synopsis
With global protests on the rise, 'Dear Future Children' is a film about the new generation at the heart of this seismic political shift. The intimate documentary follows three activists—Rayen protests for social justice in Chile, Pepper fights for democracy in Hong Kong and Hilda battles the devastating consequences of climate change in Uganda. Facing almost impossible odds and grappling with the staggering impact of their activism on their lives, the film captures all the energy, anger, and ingenuity of these inspirational young women as they struggle to create a brighter future for themselves and the world.
Focussing on three strong female protagonists for a welcome change, 'Dear Future Children' examines a side of activism that is usually ignored by mainstream media and traditional eco-political documentary filmmaking. The audience is transported to the frontline of each of their respective causes, where we learn just as much about the activists themselves as the movement they belong to. A timely and important film about the power of the individual in addressing some of the world's most pressing issues and the psychological sacrifice they must make in their personal lives to help society as a whole.
About the Director
Franz Böhm is a filmmaker from Stuttgart, Germany. At just 16, after working his way up to Assistant Director, he made his first solo film, 'Harmonie der Anderen'. His next project found him living with youth experiencing homelessness, the resulting documentary, 'Christmas Wishes', was selected as the opening film for the German Youth Film Awards. Franz then directed the short drama 'Good Luck', which premiered at the British Independent Film Festival. Franz is currently developing new projects in London, and 'Dear Future Children' is his debut feature film.
Credits
Director

Franz Böhm

Producer

Ansgar Wörner, Johannes Schubert, Franz Böhm

Editor

Daniela Schramm Moura

Associate Producer

William Sell, Enzo Gromiko

Co-Producer

Jamie Gamache, Connor O'Hara, Jennie Scott

Music

Hannes Bieber, Leonard Küßner

Cinematographer

Friedemann Leis

Sales Company

Magnetfilm GmbH

Sound

Marco Schnebel, Marc Lehnert

Distributor

Magnetfilm GmbH