Bigman (Strijder)
Ajyal Competition - Ajyal Film Festival 2022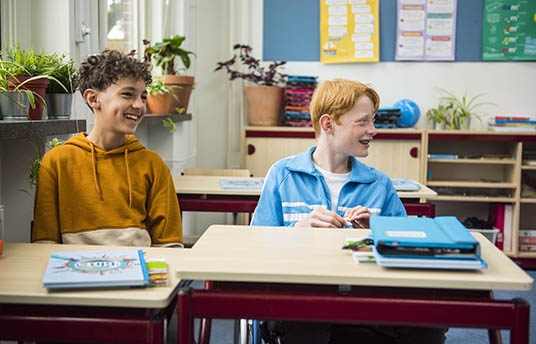 Synopsis
Dylan and his best friend Youssef share the same dream of becoming professional footballers after they finish school. They practice diligently every chance they get, coached by Dylan's huffish but good-humoured father. The team sets their sights on winning the coveted Touzani Cup. But a tragic accident leaves Dylan partially paralysed and unable to play. Stubbornly, Dylan refuses to accept the new limitations of his disability. With the help of Maya and the boys on his team, he searches for new ways to participate in his beloved sport in this inspiring feature about friendship, determination, and the will to win.

Based loosely on screenwriter Job Tichelman's own life as a disabled football player, the film deals compassionately with the heart-rending realities of coming to terms with being differently abled than one's peers. Dylan's character arc from denial and anger to ultimate acceptance is moving. He grows as a person with each challenge he doggedly overcomes, even giving up his treasured number ten jersey for the good of his team. A directorial debut for Camiel Schouwenaar, 'Bigman' is a classic footballing tale with a poignant goal.
About the Director
Camiel Schouwenaar works as a writer and director for youth drama productions and animation films. After he graduated from the Netherlands Film Academy, he started directing puppet show series that won international awards. He loves storytelling for young audiences, where drama is presented in a light-hearted and imaginary way. His animation short 'Polska Warrior' won the Prix Jeunesse UNESCO Award, two Cinekid Awards and the Golden Calf.
Credits
Director

Camiel Schouwenaar

Screenwriter

Job Tichelman, Camiel Schouwenaar

Producer

Reinier Selen, Rinskje Raap

Co-Producer

Marcel Lenz, Guido Schwab

Cinematographer

Marc de Meijer

Editor

Patrick Schonewille

Production Company

Rinkel Film

Sales Company

m-appeal

Sound

Sebastian Schmidt

Mixing

Olaf Mehl

Composer

Anna Kuehlein, Lennart Busch, Floris de Haan

Set Designer

Donja de Graaf

Distributor

m-appeal

Cast

Maik Cillekens, Anouar Kasmi, Kailani Busker, Mohamed Tijani,Martijn Fischer, Maartje van de Wetering, Walid Benmbarek, Soufiane Touzani