Benda Bilili! (Benda Bilili!)
World Panorama - Doha Tribecca Film Festival 2010
Synopsis
The soul-stirring spirit of song and the resolve to rise above desperate poverty are the backbone of this amazing documentary about Staff Benda Bilili, a Congolese music group comprising of street kids and paraplegic polio victims. Hardly a slick ensemble, they begin rehearsing outdoors - in the Kinshasa Zoo! - with rusty old instruments and reclaimed rubbish. One able-bodied youngster fashions his own unique "lute" from an empty milk container, a hunk of wood and a single, tightly-wound string. Don't laugh: the kid wails on that mono-string with the intensity of Jimi Hendrix. After years of struggling for funds and studio time, they finally record their debut album, and - amazing but true - the band ultimately becomes a massive hit on a European tour. "A man's life is never over, luck shows up unannounced... I know we'll succeed someday," goes a lyric in one funky soukous number, and this project - which began as a general documentary about African music - demonstrates that notion in clear, vibrant rhythms.
About the Director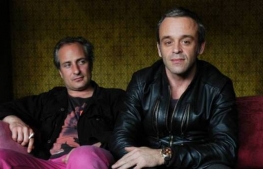 Renaud Barret, Florent de La Tullaye
Renaud Barret and Florent de la Tullaye live and work in France and the Democratic Republic of Congo. In addition to their feature film "Benda Bilili!," they also worked together on "Victoire Terminus" in 2008 and "Jupiter's Dance" ("La Danse de Jupiter") in 2006.
Credits
Director

Renaud Barret, Florent de La Tullaye

Producer

Yves Chanvillard, Nadim Cheikhrouha

Editor

Jean-Christophe Hym

Music

Staff Benda Bilili
Contacts