3 Faces
Special Screening - Ajyal Film Festival 2018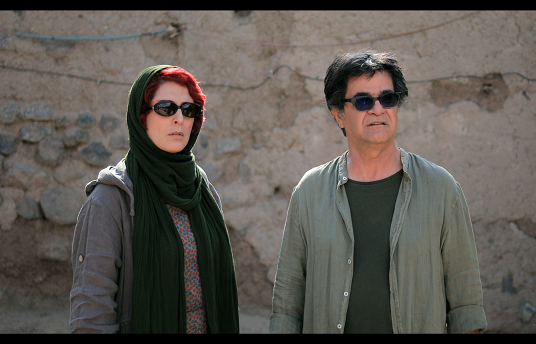 Synopsis
Well-known actress Behnaz Jafari is distraught when she comes across a provincial girl's plea for help after her family prevents her from studying drama in Tehran. Abandoning her shoot, Behnaz turns to filmmaker Jafar Panahi to help with the young girl's problem. Together, they travel to the rural Northwest, where they encounter the endearing and generous folk of the girl's mountain village. But Behnaz and Jafar soon discover that old traditions die hard, and the more they learn about the community they have infiltrated, the more they realise the inescapable bond between culture and destiny.

Veteran Iranian director Jafar Panahi ('The White Balloon', 'This Is Not a Film') delivers a delightful meditation on acting, reportage and political unrest. Through the experience of three actresses, we witness not only the film history of Iran but also that of the country itself and the experience of women in its society.

About the Director
Jafar Panahi is an Iranian film director, screenwriter, and film editor. His feature film debut, 'The White Balloon' (1995) won the Caméra d'Or at the 1995 Cannes Film Festival, the first major award won by an Iranian film at Cannes. He continued to receive international acclaim from film theorists and critics and won numerous awards, including the Golden Leopard at the Locarno International Film Festival for 'The Mirror' (1997), the Golden Lion at the Venice Film Festival for 'The Circle' (2000), and the Silver Bear at the Berlin Film Festival for 'Offside' (2006). Other notable works include 'This Is Not a Film' (2011), 'Closed Curtain' (2013), and 'Taxi' (2015).
Credits
Director

Jafar Panahi

Screenwriter

Jafar Panahi

Producer

Jafar Panahi

Editor

Mastaneh Mohajer

Cinematographer

Amin Jafari

Sales Company

Celluloid Dreams

Production Company

Jafar Panahi Film Productions

Sound

Amireza Alavian

Cast

Behnaz Jafari, Jafar Panahi, Marziyeh Rezaei, Maedeh Erteghaei, Narges Del Aram,