All Ajyal Youth Film Festival 2016 Films
I, Daniel Blake
Ajyal Competition - Ajyal Youth Film Festival 2016
Synopsis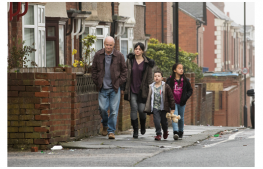 Nearing retirement but still full of charm and gusto, Daniel Blake has received a couple of life's hard knocks of late. His wife died not long ago, and he recently suffered a heart attack, which has left him unable to work for the time being. With that, he applies for unemployment benefits, but quickly finds himself entangled in the red tape of a system that seems determined to discourage and dehumanise applicants, rather than treat them with the dignity they deserve.

While Daniel tries to access the assistance he is due, he meets Katie, who is facing her own difficulties with the welfare system as an unemployed single mother with two young children. Despite his own struggles with making ends meet, Daniel does what he can to help Katie and her kids, but the inaccessible, impersonal state hangs over them like a cloud of impending doom.

For half a century, director Ken Loach has taken aim at the ways in which the rich and powerful exploit the working classes. With 'I, Daniel Blake', which won the Palme d'Or at Cannes this year, Loach tears into the disenfranchisement of the underprivileged, laying it bare as one of Great Britain's most damaging social ills.
About the Director
Known for his social activism, Ken Loach is celebrated for his particular brand of social realism. This style informs all his work, from his early films – 'Poor Cow' (1967); 'Kes' (1969) – through to 'Hidden Agenda' (1990), which won the Special Jury Prize at the Cannes Film Festival; 'The Wind that Shakes the Barley' (2006), which won the Palme d'Or at Cannes; and 'The Angels Share' (2012). Loach's films tend to focus on the lives of ordinary people and the injustices they face, presenting their lives in a naturalistic fashion and often making use of non-professional actors and real locations. 'I, Daniel Blake' saw Loach receive his second Palme d'Or at Cannes this year.
Credits
Director

Ken Loach

Screenwriter

Paul Laverty

Producer

Rebecca O'Brien

Editor

Jonathan Morris

Production Designer

Fergus Clegg, Linda Wilson

Music

George Fenton

Cinematographer

Robbie Ryan

Sales Company

Wild Bunch

Production Company

Les Films du Fleuve, Sixteen Films, Why Not Productions, Wild Bunch

Sound

Ray Beckett

Distributor

Teleview International

Cast

Dave Johns, Briana Shann, Hayley Squires, Dylan Phillip McKiernan