Series Lab
Series Lab
Start date:

Jun 20, 2020

Ability Level:

Intermediate to Advanced
Over the past two years, Doha Film Institute has started nurturing a space for series projects from the MENA region through its labs and financial support mechanisms—and now through Qumra as a mentoring and industry meeting event, as well as the Series Lab.
The Series Lab is dedicated to screenwriters developing scripted series projects created for distribution on all platforms (including television, digital or web). It provides participants with the scriptwriting tools and industry access to help move their projects and careers forward.
The programme is an exciting opportunity for emerging screenwriters and writer-directors from the region to:
complete a treatment/script for their pilot or first season
produce the general concept presentation of the project
exercise writing and pitching skills
understand the global series landscape and the entire process of creation of a series.
Participants will be working with accomplished mentors and story editors in generating ideas and structuring their material.
The programme will include:
customized one on one advising session with mentors
group work session with mentors and other participants
simulation of a "writer's room"
group tutorials with selected industry experts (producers, showrunners, labs and markets, funding and distribution platforms, etc.)
pitch training
final projects presentation and feedbacks.
Participants work in small groups with the support of experienced mentors. The lab consists of three sessions of five-day workshops, which take place intermittently over a period of six months along with two online follow-up sessions. During each five-day session, participants are expected to work on all agreed assignments and reach key milestones as they build toward their screenplays. Strict deadlines must be followed, and participants will be asked to read and engage in the other lab attendees' work.
---
Dates:
● Session 1: 15 – 19 July (online)
● Session 2: 7 – 11 October
● Session 3: Jan 2021
Hours: 9:00 AM to 5:00 PM
Language: English
Level: Intermediate to Advanced
Group Size: 8 – 10 Series Projects
Lab Fee: 1,500 QAR
Qatar Museums Culture Pass members will receive a 10% discount on this lab's fee. To avail of the discount, simply include a copy of your Culture Pass when applying.
Deadline for applications: 20 June
---
Eligibility
The workshop is designed for writers and directors, or anyone interested in writing for scripted serialized projects created for TV and web series, or app-based platforms.
Candidates should have produced at least one short or feature-length narrative or documentary film, or series in the past.
Participants must be from Qatar or the

MENA

region
International candidates are responsible for funding their own travel to Qatar.
---
Submission Requirements
Please send the following in Word or PDF format to training@dohafilminstitute.com
Synopsis (1-page maximum)
Treatment & concept presentation (arc of the story, backstory, character description and episode outline)
Biography and filmography of key team (director, writer, producer, production company profile)
Visual concept or any visual representation, i.e. mood board, storyboard (if available)
Treatment of each episode in bullet points (if available)
Pilot script (if available)
Detailed information about what is required for the project's development
A letter outlining why you want to participate in this workshop.
Please include your full name, email and contact number in all text documents.
---
Lab Programme
Session 1
The first session will begin with a brief introduction and pitching of the ideas followed by input and feedback from the other group members and tutor. Character and theme development will also be covered, as well as an overview of documents to be produced for the next sessions.
This session will continue with a review of new and revised materials (the first scene-by-scene breakdown, or extended treatment). There will be continuous feedback and a revisiting of character and theme, adding to the discussion and further exploring a structural dimension (plot, resolution, inciting event, etc.).
Session 2
The second session will be a review of the new materials (revised scene-by-scene breakdown, revised character documents, etc.), and a first draft or some written scenes from the revised breakdown. Visual research and other materials will also be reviewed with the premise and pitch further developed.
Session 3
Our final session will consist of feedback and input from the group and tutoring on first drafts as well as scene analysis. This will set the trajectory for the next steps of the project concerning financing, casting, etc.
The Series Lab includes a final projects' presentation with an external panel of industry guests. Participants will submit their written work to the panel members and present the project they have developed over the three sessions.
---
Mentors
Ryan O'nan
Lab Leader
TV Writer and Showrunner
Ryan O'Nan is an American TV writer and actor. He started his work as TV writer for MTV's 'Skins' in 2011. He is a story editor on USA Network's 'Queen of the South', in which he also plays the recurring role of King George. He is also a writer on FX's 'Legion'. He was a guest star as Jared Hale in the FX series 'Justified'
in the very first season premiere episode 'Fire in the Hole'. He had recurring roles in 'Mercy' and 'The Unusuals', and has appeared, among others, in the films 'Eat Pray Love' and 'The Dry Land'. He wrote, directed and starred in the independent comedy 'The Brooklyn Brothers Beat the Best', defined as one of the best musical comedies of recent years. 'The Dry Land' saw him team up again with both Jason Ritter and Melissa Leo from his earlier film.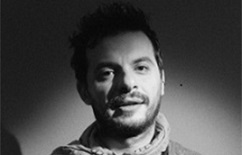 Bassem Breche
Writer/Director
Bassem Breche is an Emmy Award-winning scriptwriter. He began his career as an actor in Lebanon and the UK, appearing in John Furse's 'Blind Flight' (2003) and Antonia Bird's 'The Hamburg Cell' (2004). His first short film, 'Both' (2007), was selected for the Critics' Week at the Festival de Cannes.
From 2009 through 2011, Breche worked on the Emmy Award-winning web-drama 'Shankaboot' as Lead Writer and Online Content Producer. He also worked as a scriptwriter on the award-winning web series 'Fasateen'. In 2013, Breche won the Robert Bosch Foundation Prize at the Berlin International Film Festival for his short film 'Free Range' (2014). He is the director of the screenwriters' collective Scenario Beirut.