Learn to Animate
Youth 2D Animation Workshop in collaboration with Les Gobelins Animation School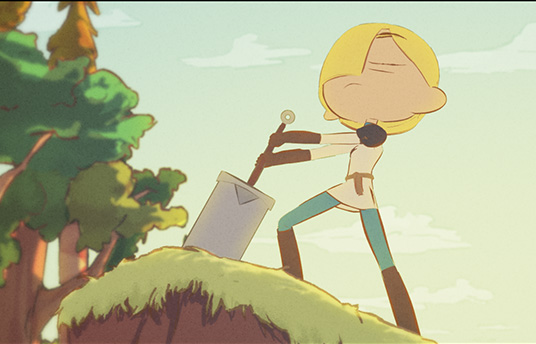 Start date:

16 February 2019

Ability Level:

Beginner
---
During this one week course, participants will be introduced to all the methods of traditional 2D animation. Beginning with a quick introduction to the history and basics of frame-by-frame animation, participants will learn how to design and animate characters and backgrounds from scratch.

A very much hands-on experience, students will then be presented an example storyboard that they will use as a reference to create their own short animated film. Each participant will be given a random scene or two from this storyboard and design and animate their own character and background. At the end of the workshop, all of these scenes will be edited together, and the project will be screened as a whole.
---
Materials and Equipment Used
Pencils, Pens and Paper
Any other materials that the participant would like to work with and can be creative with (Paint, Colouring Pencils, Paper Cutting, etc.)
A Camera and/or iPad to scan the animations drawn on paper
Participants will also have the possibility to draw directly and colourise on TVPaint
---
Details:

Age group: 13 to 17 years old
Dates: February 16-21, 2019.
Daily sessions of 2 hours for 6 days.
Time: 5:00 to 7:00 PM
Language: English and Arabic
Price: 500.00 QAR
Location: Katara, Building 16 Rehearsal Room
---
Registration Deadline:
Applicants should submit an email to youth@dohafilminstitute.com before 7 February 2019.
---
Mentor
Nathan Otano
Workshop Mentor


Nathan Otano graduated in 2017 from the Character Animation and Animated Film Making course at Gobelins, l'école de l'image—a four years Master of Arts degree. During his scholarship and internships, he endeavoured to explore as much areas as possible in the realm of 2D and 3D animation. Since his graduation, he has primarily worked as a director, story boarder and animator, pitching animation projects to companies and festivals.
About Gobelins, l'école de l'image


Gobelins is a Paris-Ile-de-France Chamber of Commerce's institution. It trains nearly 980 students each year, including 490 apprentices and 2,000 interns. A global reference in the fields of digital communication, interactive design and entertainment for over 50 years, Gobelins is renowned for its exceptional depth of training in Photography, Animated Filmmaking, 3D Animation, Motion Design and Video Gaming.

The Animation Department at Gobelins was founded in 1975 by Pierre Ayma. Alumni have moved on to contribute to the world's leading animation studios, including Disney, Universal, Hanna Barbera, Pixar, DreamWorks and Warner Bros.

Gobelins was ranked number 1 in the list of the Top 100 International Animation Schools by www.animationcareerreview.com for the past two consecutive years based on the overall quality of programme including technology and facilities provided, reputation within the industry and the quality of student and graduate animation works.