Health in Focus Filmmaking Workshop
Health in Focus Filmmaking Workshop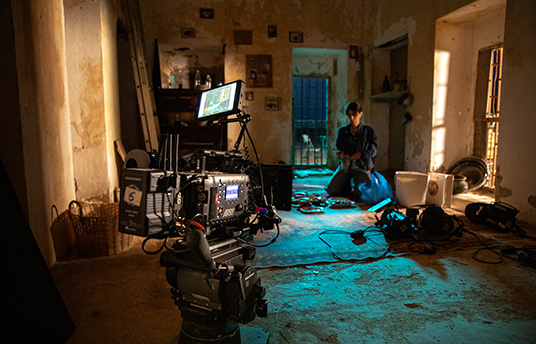 Start date:

May 5, 2023

Ability Level:

Intermediate
---
In partnership with the Ministry of Public Health, Doha Film Institute is delighted to announce a youth filmmaking workshop, inviting aspiring filmmakers to create their own short films about health topics.

Led by experienced filmmaker and mentor Corine Shawi, this hands-on initiative offers a comprehensive introduction to the essential tools of filmmaking. Through practical and exciting exercises, participants will learn the fundamental techniques required to develop and produce a short film—from basic narrative development to visual storytelling.

During the workshop, participants will have the opportunity to work individually on their projects and film at various locations throughout Doha. Completed films will also get the chance to be screened at DFI's acclaimed annual film festival. So, don't miss out on this incredible opportunity to learn, explore, and share your unique perspectives through film—apply now!
---
Details:
Start Date: 1 May 2023
Ability Level: Intermediate
Age group: 18 – 25 years old
Dates: 1 May – 4 June 2023
(Classes are on Sunday, Tuesday, Wednesday, and Saturday)
Time:
Sunday, Tuesday, and Wednesday: 5:00 PM – 8:00 PM
Saturday: 2.00 PM – 6.00 PM

How to apply:
To apply, submit a brief document telling us about yourself and your idea for your film by email to youth@dohafilminstitute.com before 26 April 2023.
---
| | | |
| --- | --- | --- |
|   | |   |
---
Meet the Mentor

Corine Shawi

Lebanese filmmaker Corine Shawi has a passion for filmmaking that started when she directed her first long documentary, 'Les Femmes Bonnes', at the age of 20. The film followed Doulika's life between Lebanon and Sri Lanka over six years and marked the beginning of her career. Over time, her interest in exploring various themes related to complex human connections and relationships grew. She directed several short documentaries, each exploring different themes. 'Oxygen' (2007) urged her family to discuss a taboo matter, while 'Affinity' (2007) reflected on the boundaries of friendships. 'Film of Welcome and Farewells' (2009) depicted loneliness in Copenhagen and premiered at the opening of Écrans du Réel festival in Lebanon. 'I Love You Forever' (2010) unfolded the strange story of two old sisters, a mixture of love and loss and premiered at the CPH:DOX, Copenhagen International Film Festival. 'E Muet' (2013) dealt with friendship, love, and its expression and premiered at FID Marseille international competition. Her latest long documentary, 'Perhaps What I Fear Does Not Exist' (2022), was a 4-year journey to find absolution for a broken family by helping her father walk again. The film premiered at the Dok Leipzig international competition and other festivals, leaving audiences in tears and laughter. In addition to her work as a filmmaker, Corine enjoys sharing her knowledge and experience with aspiring filmmakers. Since 2011, she has been teaching filmmaking at Saint Joseph University in Lebanon, conducting workshops both domestically and abroad and has collaborated with the National Film School of Denmark on many occasions.