2020
Short Documentary Lab with Rithy Panh
Start date:

Jul 22, 2020

Ability Level:

Intermediate/Advanced
Making a documentary is much more than simply filming what surrounds us. It can be a way of understanding the world, a tool to make it a better place, and an art form where you can find and express your own voice.
During this workshop, filmmakers will gain first-hand experience working alongside Oscar-nominated documentarian Rithy Panh. The world-renowned storyteller will teach participants his method of narration through working with memory, culture, and identity to gain an in-depth understanding of personal traditions, celebrations, community, and the oral history of a country. His teaching techniques build on the foundations of cultural memory to capture fragile moments through film. Participants will be encouraged to find their own narratives that explore the idea of identity and origins by truly living, working, and breathing with their subjects.
In small teams, students will make short documentaries around the theme of confinement and isolation—outlined in Rithy Panh's course introduction below—working together with the group to create a cohesive anthology series or a feature documentary in chapters. The first part of the lab will focus on development and pre-production, and the second part will entail production, editing and post-production. Filmmakers will shoot independently and upload their footage for evaluation by the lab mentor and group analysis. By the end of the programme, participants will experience the entire process of making a film. Experienced professional mentors will guide participants throughout the filmmaking process, and students admitted in the programme should be committed to participating for the entire period of the session.
The goal of the lab is to provide new skills, to discover cinematic language, and to transform students into filmmakers who are ready to change the world and tell their stories.
Application Deadline: 11 July 2020
---
Course Introduction by Rithy Panh
Our time is that of the coronavirus, a small invisible virus with a strange name that has shaken our daily lives and managed to disrupt the whole world. It reminds us of the fragility of our existence. It challenges us about our relationship to our natural, spiritual, social, cultural, or political environment. It disarmed us. For me, this exceptional moment of isolation is an opportunity to ask questions about who we are, about our dreams, about our life. I find it essential to bear witness to this period (difficult for some, saving for others) through our gaze, through films, through reflection, through writing in images and sounds. Of course, this virus drains its sinister procession of deaths, but it forces us to reinvent what binds us. It can bring the best; as it can awaken the worst instincts. It all depends on us. Films are a means of witnessing, capturing, and keeping track of this event.
Personally, I was amazed, without words, in front of the fights to buy toilet paper or this reflex of amassing food reserves for myself when no situation of shortage or war was announced. I also learned from voluntary confinement, that in the beginning, almost nothing worked for me, physically and intellectually. All of life went through messages on social networks—no more physical contact, no more social being, no more working under normal conditions. I felt culturally cut off from everything and everyone. On the other hand, I saw the sky better; I heard poetry better, the song of birds. I appreciated these little things that make the salt of life better.
I propose that this workshop brings a questioning on this pivotal period, going beyond the anguished look, fear or worries about existence to question us on how to redefine a being, rethink our relationship to others and to our environment, how to face the world of tomorrow. It is by facing this virus, by taking back our life in hand with our tools, that we will finally know what this virus is. Filming is used for that, to reveal. Let's think about the use of movies here. Let's restore the image of the museum of the imaginary. Let us work with our tools to give meaning, to express our feelings and our ideas. It is important to keep an individual, social, artistic record of this moment. This virus forces us to think about our future so let's bring creative answers.
---
Schedule and Course Description
Dates (participants are expected to attend all the sessions):
22 July – 22 October (3 months)
These sessions will take place online, three times a week, for three hours per session.
Part 1: Documentary Filmmaking (Theory & Practice, Development & Pre-Production)
Theoretical discussion and tutorials

Looking inside yourself: what do you want to talk about?
Looking outside yourself: discovering reality
Ethics in documentary filmmaking
Overview of the creative process, from idea to the final product
The relationship between you and reality during the process
The relationship between your goal as a filmmaker and the expected final product

Analyzing and viewing films
Development of participants' documentary proposals
Practical training:

How to scout for locations and subjects
Fundamentals of filming and recording
Shot lists, shooting plans

Exercise: make a 3-to-5-minute film without editing (the subject will be assigned).
Selection of projects to be produced in the second session

Formation of production teams. Each participant will work in the team of at least one project as the director, producer, sound recordist, or camera person.
Planning for the 2-month period of independent work
Part 2: Filming, Editing, and Post-Production
Shooting and analysis of the rushes with the assistance of an editor
Editing and Post-production
By the end of the course, students will have created three to five documentary short films, which are screened for the class. As a group, we prepare distribution strategies. Then, based on their personal experience, each student proposes a new idea for another documentary. The lab ends imagining new films and defining the individual style of each student.
---
Lab Timings
Part 1
Timings will be determined based on the availability of accepted applicants. However, participants should be able to commit at least five hours per day. Proposed timings are 5 – 8 PM, three times a week.
Part 2
Full commitment may be required during production and post-production, depending on the project.
Lab Fee: 2,800 QAR
Language: English
Group Size: Up to 10 participants
Programme Level: Intermediate/Advanced
Applicants should have made at least one short film and demonstrate experience with documentary filmmaking.
---
Submission Process
Applicants should submit a proposal of no longer than one page for a short creative documentary film on the theme of confinement or isolation, inspired by Rithy's course introduction (maximum duration 10 minutes). This proposal can be a simple idea or a theme; it must show the personal resonance and motivation of the student. Applicants should provide the reasons they want to make the proposed film, and explain why they are the right person to tell the story they have chosen. Selected applicants are welcome to change their idea or develop a new idea during the lab. We understand that projects often evolve drastically during the development process.
Please note that submission of materials does not guarantee admission. Applicants will be notified of their acceptance status in a timely manner after the submission deadline passes.
Submission Requirements
Please send the following together as one document (in Word or PDF format) to doclab@dohafilminstitute.com, including your full name, email and contact number:
A brief letter of intention explaining why you are applying to the lab (maximum one page)
Short documentary film proposal/treatment (maximum one page)
Previous work or artistic portfolio (if applicable)
CV or short biography
Last day to apply: 11 July 2020
This programme is open to citizens and residents of Qatar; applicants are requested to attach a copy of their Qatar ID to their submission.
Selection of Candidates
Candidates whose work shows promise will be shortlisted. Shortlisted candidates will be invited for an interview with the Institute and the lead lab mentor.
Class Participation
The importance of participation in this class cannot be overstated. Students should be prepared for every class and should always have their materials with them for presentation, discussion and in-class workshops, and should be prepared to contribute ideas or ask questions in every session. They should demonstrate the self-discipline, commitment and respect toward others that is necessary for successful creative explorations and film production within a team. They should show initiative, take responsibility for their own work, and be able to solve problems when plans do not turn out as expected.
---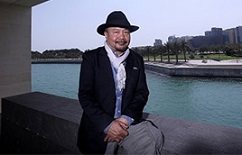 Rithy Panh
Lead Mentor, Documentary Filmmaker
Rithy Panh is a Cambodian-French filmmaker, writer and producer. Born in Cambodia, he studied filmmaking at the Institut des Hautes Études Cinematographiques in France. He has directed numerous internationally acclaimed films, including 'The Rice People', which was selected for the Official Competition of the Festival de Cannes in 1994; 'The Land of Wandering Souls' (2000), which won several awards, including the Robert and Frances Flaherty Award at the Yamagata International Documentary Film Festival; the influential 'S21: The Khmer Rouge Death Machine' (2004), which took numerous awards around the world, among them the Albert Londres Award; 'Paper Cannot Wrap Embers' (2007), 'The Sea Wall' (2008) and 'Duch, Master of the Forges of Hell' (2012). In 2013, Panh directed 'The Missing Picture', which was nominated for the Academy Award for Best Foreign Language Film and won the Grand Prix in the Un Certain Regard section at the Festival de Cannes. He then directed 'France is our Mother Country' (2014); 'Exile' (2015) Cannes Film Festival 2016; 'Graves Without a Name' Venice, Telluride, and Toronto Film Festivals 2018. His latest film 'Irradiated' (2020) won the Berlinale Documentary award at its premiere. He is also a principal founder of the Cambodian Film Commission, an industry development organisation that includes the CFC Film Lab, a professional film training programme for Cambodians.
Socheat Cheng
Supporting Mentor
Socheat Cheng holds a bachelor's degree in information technology. During his studies, he was always passionate about filmmaking. After his graduation, he got involved in numerous activities in the film industry such as documentary and fiction filmmaking, editing, colour grading, cinematography, camera assistant and visual effects. In addition, he participated in a year-long documentary film training program initiated by Bophana Audiovisual Resource Center. He also worked with many foreign film crews and production companies from France, Korea, and the USA. He recently became an assistant to Mr Rithy Panh and has helped make the films 'The Missing Pictures' (2013), 'Exile' (2016), 'Bangskol: A Requiem for Cambodia' (2017).