2019
History of Cinema and Film Analysis with La Femis Academy - Part I
Start date:

Dec 01, 2019

Ability Level:

unspecified
In collaboration with La Fémis, the Institut Francais Qatar, the French Embassy in Doha, FNAC and Fifty One East.
PART I: 1 – 6, December 2019
In the first of a fascinating two-part insight into the history of cinema, DFI combines both film analysis and academic training to take participants from the early beginnings of the art form to contemporary filmmaking.
From the 'Magic Lantern' to the early cinema, you will learn the context of the 19th-century history of Europe told through the various European avant-garde movements. Moving forward, we observe the modernisation of filmmaking with a focus on contemporary French cinema—by combining aesthetic and narrative considerations.
You will learn:
Film history focusing on this major period of its history.
To master specific filmmaking vocabulary.
Film analysis and basic methodology.
To expand your film knowledge base.
This course is ideally suited for cinema apprentices, movie-lovers, and professionals looking to vastly improve their academic background. Places are strictly limited, so book soon to avoid disappointment.
---
Application Deadline: 17 November, 2019
Dates: 1 December – 6 December, 2019
Hours:
Sunday to Thursday 5 PM to 10 PM
Friday 2 PM to 7 PM
Language: English
Group Size: 15-20 participants
Price: QAR 1,000.00*
*Qatar Museums Culture Pass members will receive a 10% discount on this lab's fee. To avail of the discount, simply include a copy of your Culture Pass when applying.
---
Application Requirements
Please send the following together as one document (in Word or PDF format) to training@dohafilminstitute.com on or before 17 November, including your full name, email and contact number:
A brief letter of intention explaining why you are applying to the lab (maximum one page), and mentioning which part(s) of the programme you wish to attend (Part I, Part II, or both). We strongly recommend that participants, when possible, attend both parts of the course to ensure a fully-rounded experience.
Previous work or artistic portfolio (if applicable).
A CV or short biography
This programme is open to citizens and residents of Qatar—applicants are requested to attach a copy of their Qatar ID to their submission.
Please note that submission of materials does not guarantee admission. Applicants will be notified of their acceptance status in a timely manner after the submission deadline passes.
---
PART I Schedule: 1 – 6, December 2019
DAY 1: THE ARCHEOLOGY OF CINEMA IN THE 19th CENTURY
Subjects covered:
The European context in which cinema appeared.
The experimentations made at the time, e.g. chronophotography.
The reminiscences of these experimentations in both practical (eg. Matrix's bullet-time effect/ 'Temps Mort' by E. Carlier 1995) and narrative use in contemporary cinema.
Films studied: Magic lantern shows in the 19th century, Jules-Etienne Marey and Eadweard Muybridge's chronophotography, and Edison's films.
---
Day 2: EARLY CINEMA (PART I): 1894 – 1914
Subjects covered:
The birth of cinema in France and its specificity compared to other occidental inventions.
The establishment of film production and distribution: Méliès, Pathé and Gaumont.
The economy and aesthetics of early cinema in Europe and throughout the world.
Film studied: Lumière brother's films 1895-1904, and 'A Trip to the Moon' by Georges Méliès (1902), films by Méliès Pathé, Gaumont and the early films of England (The Brighton School).
---
DAY 3: FROM EARLY CINEMA (PART II)—TO CLASSICAL HOLLYWOOD CINEMA (1903 – 1939)
Subjects covered:
The appearance of editing which led to a standardization of film writing (Noël Burch).
The difference between cinema of attraction and cinema of narration (Tom Gunning).
Hollywood and the history of its industry.
The emergence of the first great cinematographic genres including melodrama, western, musical (Rick Altman).
A contemplation of the arrival of sound and colour.
Film studied: 'The Great Train Robbery' by Edwin Porter (1903), 'Birth of a Nation' by G. W. Griffith 1915, 'The Jazz Singer' by Alan Crosland (1927), Chaplin's 'City Lights' (1931), 'Scarface' (H. Hawks, 1932), 'King Kong' by Merian C. Cooper & Ernest B. Schoedsack (1933), 'Robin Hood' (1938), 'Stagecoach' (John Ford, 1939) and 'Gone with the Wind' (Prod: David O. Selznic, 1939).
---
DAY 4: THE FRENCH AVANT-GARDE (1920 – 1932) AND POETIC REALISM (1930 – 1939)
The tension between cinema as an art form and cinema as an industry appeared in the 1910s and led to different movements which rededications are not far from the French New-Wave movement.
Subjects covered:
The impressionists (ex: Dulac, Epstein),
Dadaism: René Clair (Entr'act, 1924)
The surrealists (Bunuel, Dali)—which will lead to the study of some other art forms such as photography or literature.
Poetic Realism: Jacques Prévert as a scriptwriter, and the importance of Renoir, Carné, etc.
Films studied: Entr'act by René Clair (1924); 'The Fall of the House of Usher' by Jean Epstein (1928); 'The Seashell and the Clergyman' by Germaine Dulac (1928); 'Un Chien Andalou' by Luis Buñuel & Salvador Dali (1929); Marcel Carné: 'Le quai des brumes' (1938), 'Hotel du Nord' (1938), 'Le jour se lève' (1939); Jean Renoir: 'Boudu sauvé des eaux' (1932), 'La grande Illusion' (1938), and Christian-Jaque's 'Les disparus de Saint-Agil'.
---
DAY 5: GERMAN EXPRESSIONISM AND OTHER FILMS FROM GERMANY (1919 – 1935)
In our penultimate day of part one, we take an intriguing look into how cinema sustains a curious position between the two world wars.
Subjects covered:
The impact of the

WWI

on the cinematographic production with a focus on a specific movement—expressionism
The end of the 1920s and the beginning of the Nazi Period (Leni Riefenstahl)
The impacts of those movements in contemporary filmmaking (Tim Burton).
Films studied: 'The Cabinet of Dr. Caligari' by Robert Wiene (1920); 'M' by Fritz Lang (1931); 'Golem' by Wegener (1921); 'The Testament of Dr Mabuse Fritz Lang' (1932); and 'Triumph of the Will' by Leni Riefenstahl (1935).
---
DAY 6: THE RUSSIAN AVANT-GARDE AND RUSSIAN & JAPANESE CINEMA UNTIL THE 1970s
In an exploration of the ideological gap between East and West, the film works of the Soviet Union are presented, and we explore the continuing importance of Soviet & Japanese filmmaking until the 1970s.
Subjects covered:
Russian production.
The importance of editing (Lev Koulechov).
Propaganda films during the Stalin era.
The cinema of the Khrushchev Thaw.
Japanese cinema in the 1950s (Ozu, Kurosawa).
Films studied: 'Battleship Potemkin' by Sergei Eisenstein (1925); ''Chess Fever'' by Vsevolod Poudovkine (1925); ''The Man with the Movie Camera by Dziga Vertov (1929); ''Ivan Childhood'' by A. Tarkovski (1961); ''Rashomon'' by Akira Kurosawa (1950); ''The Seven Samourai'' by Akira Kurosawa (1954); and 'Good Morning' by Y. Ozu (1959).
---
Lab Mentor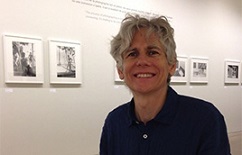 Martin Barnier
Martin Barnier is full professor, currently teaching film history at the University Lumière Lyon2, since 1997. He has specialized in the history of sound, the biopics, spectatorship and 3-D in film. Among his recent publications are 'Bruits, cris, musiques de films'; 'Les Projections Avant 1914 (2010) with Kira Kitsopanodou; 'Le Cinéma 3-D. Histoire, économie, technique, esthétique' (Armand Colin, 2015) with L. Jullier; 'Une brève Histoire du cinema' (1895-2015), (Pluriel, 2017), and alone 'Les Lumières de la Ville – Charlie Chaplin', (Réseau Canopé, 2017). He has been a visiting scholar at the University of California, San Diego (teaching in English), the University of Fluminense, Rio de Janeiro (teaching in Spanish). He was also a teaching assistant for one year at the University of Iowa, (teaching in English) the History of European film.
---
About La Fémis
La Fémis, the French national film school, was founded in 1986 and is currently chaired by award-winning director Raoul Peck. Each year, the school selects and trains 50 students in the various disciplines of filmmaking. Exceptional films created through the film school's programmes have been selected for and won awards at many film festivals, including the Festival de Cannes, the Berlin International Film Festival and the Clermont-Ferrand International Short Film Festival. La Fémis has been ranked one of the top 10 film schools in the world by 'The Hollywood Reporter'.
This workshop is in collaboration with