2018
Short Documentary Lab with Rithy Panh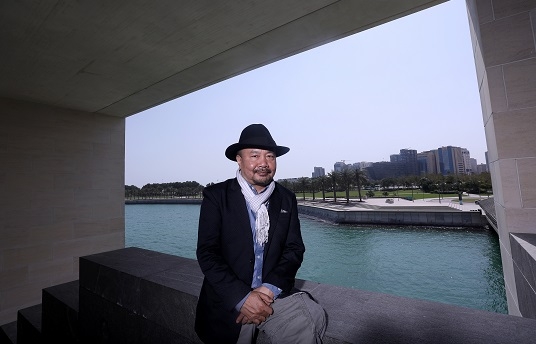 Start date:

May 25, 2018

Ability Level:

Intermediate
Making a documentary is much more than simply filming what surrounds us. It can be a way of understanding the world, a tool to make it a better place, an art form where you can find and express your own voice. This intensive but inspiring lab is designed to introduce participants to the engrossing world of documentary filmmaking.
During this workshop, filmmakers will gain first-hand experience working alongside Oscar-Nominated documentarian Rithy Panh. The world-renowned storyteller will teach participants his method of narration through working with memory, culture, and identity to gain an in-depth understanding of personal traditions, celebrations, community, and the oral history of a country. His teaching techniques build on the foundations of cultural memory to capture fragile moments through film. Participants will be encouraged to find their own narratives that explore the idea of identity and origins by truly living, working, and breathing with their protagonists.
In small teams, students will make short documentaries from initial concept to final product. By going through development, research, pre-production, filming and recording images and sounds, editing and post-production, students will experience the entire process of making a film. Experienced professional mentors will guide students throughout the filmmaking process. The goal of the lab is to provide new skills, to discover cinematic language, and to transform students into filmmakers who are ready to change the world and tell their stories.
---
Course Introduction by Rithy Panh
"The essential is always threatened by the insignificant," wrote the poet René Char. In this new era of globalisation, his sentiment now seems to resonate with even more depth. The endless flow of information made possible by digital media brings with it countless benefits, but also contains many irrelevant distractions. Society is changing rapidly; views are changing, and economic development is accelerating. For centuries, since the drawings of the cave of Lescot, humanity has experienced art in two dimensions. Now mankind is entering the epoch of virtual reality, but what do we do with this new and powerful technology? How can we integrate this medium into our art without losing our roots and identity? It is on this reflection that the workshop will be built so that each participant not only discovers the relevant digital techniques, but also learns how to question their narrative in order to stay true to their content.
The secret to authentic documentary filmmaking lies in the approach of the filmmaker, in that they do not seek to make films about people, but with them. This means living with them, doing things with them, listening to them, giving them a voice. Only by working with the protagonists will their films bear true witness to the subject and the changing nature of today. The workshop will develop within participants this ability to look outward from the inside and pay close attention to language. Every culture has its own grace. We must capture these moments now, and perhaps later, when this kind of process has become ingrained, we can build the foundations of a cultural memory. This memory will be especially vivid and meaningful, as it is told by men and women – faithful witnesses of a time. Every community needs to know their roots to help them invent their future together, and this workshop will raise appreciation of the diversity of cultures within each community.
---
Application Deadline:
5 May, 2018
Dates:
25 May to 7 July, 2018
Ramadan Lab Timings: 8 PM – 1:00 AM (exact timings to be determined based on the availability of accepted applicants, and may change)
During pre-production and filming, participants may be asked to make time outside these hours, including on weekdays during the daytime.
Lab Fee: 2,800.00 QAR
Language
English
Group Size
Up to 10 participants
Programme Level
Intermediate
Applicants should demonstrate some experience in filming and storytelling.
---
Submission Process
Applicants should submit a proposal of no longer than one page for a short documentary film (maximum duration 10 minutes). This proposal can be a simple idea or a theme; it must show the personal resonance and motivation of the student. Projects that have already been developed or filmed are not eligible. Applicants should provide the reasons they want to make the proposed film, and explain why they are the right person to tell the story they have chosen. Applicants should be citizens or residents of Qatar.
Submission Requirements
Please send the following together as one document (in Word or PDF format) to doclab@dohafilminstitute.com, including your full name, email and contact number:
1. Brief letter of intention explaining why you are applying to the lab (maximum one page)
2. Short documentary film proposal/treatment (maximum one page)
3. Previous work or artistic portfolio (if applicable)
4. CV or short biography
5. Copy of Qatar ID or RP
Selection of Candidate
Candidates whose work shows promise will be shortlisted. Shortlisted candidates will be invited for an interview with Institute and the lead lab mentor.
Class Participation
The importance of participation in this class cannot be overstated. Students should be prepared for every class and should always have their materials with them for presentation, discussion and in-class workshops, and should be prepared to contribute ideas or ask questions in every session. They should demonstrate the self-discipline, commitment and respect toward others that is necessary for successful creative explorations and film production within a team. They should show initiative, take responsibility for their own work, and be able to solve problems when plans do not turn out as expected.
---
Mentors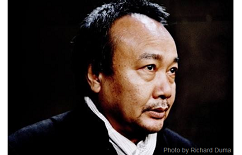 Rithy Panh
Rithy Panh is a Cambodian-French filmmaker, writer and producer. Born in Cambodia, he studied filmmaking at the Institut des Hautes Études Cinematographiques in France. His work focuses primarily on the genocide committed by the Khmer Rouge regime in his homeland. Rooted in first-hand experience, Panh's works have a rare and striking authority.
He has directed numerous internationally acclaimed films, including 'The Rice People', which was selected for the Official Competition of the Festival de Cannes in 1994; 'The Land of Wandering Souls' (2000); the influential 'S21: The Khmer Rouge Death Machine' (2004), which took numerous awards around the world; 'Paper Cannot Wrap Embers' (2007), 'The Sea Wall' (2008) and 'Duch, Master of the Forges of Hell' (2012).
In 2013, Panh directed 'The Missing Picture', which was nominated for the Academy Award for Best Foreign Language Film and won the Grand Prix in the Un Certain Regard section at the Festival de Cannes. His most recent directorial effort, 'Exile', won wide critical and public acclaim at Cannes in 2016.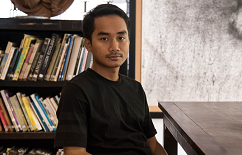 Socheat Cheng
Socheat Cheng holds a Bachelor Degree in Information Technology. During his studies, he was always passionate about filmmaking. After his graduation, he got involved in numerous activities in the film industry such as documentary and fiction filmmaking, editing, colour grading, cinematography, camera assistant and visual effects. In addition, he participated in a year-long documentary film training program initiated by Bophana Audiovisual Resource Center. He also worked with many foreign film crews and production companies from France, Korea, and the USA. He recently became an assistant to Mr Rithy Panh and has helped make the films 'The Missing Pictures' (2013), 'Exile' (2016), 'Bangskol: A Requiem for Cambodia' (2017).