2017
Producers Lab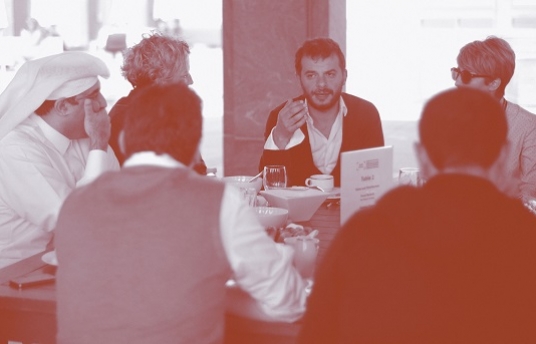 Start date:

Nov 12, 2017

Ability Level:

Intermediate to advanced
Doha Film Institute recognises the rise of emerging talent in the region and the fundamental role producers play in defining, supporting and influencing the voice of filmmakers.
This workshop is an opportunity for local and MENA-based producers to develop their skills further with experts in the field, in a small and intimate group of up to a maximum of 10 projects. Further, our hope is to strengthen co-productions in the MENA region, to open networking opportunities and to improve the overall quality of projects developed in the region.
This intensive seven-day programme takes place in Doha and focuses on the creative, artistic and strategic aspects of producing a feature-length documentary and fiction films. Through intensive training exercises, group tutorials, tailor-made one-on-one meetings and master classes led by noted industry experts, participants will gain deeper insight into various elements of film producing and come to truly understand the role of a producer.
Participants will have the opportunity to explore film marketing & distribution strategies with an in-depth focus on targeting the right audiences, understanding international markets and employing effective sales tactics.
A number of case studies will be presented throughout the sessions, enabling participants to address questions related to script development, executive production, finance and budget plans, marketing, pitching and distribution. Industry standard technical documents and templates will be shared with participants and discussed in detail – e.g. budget, financing plan, distribution and sales strategy samples, and treatment and pitch examples.
---
Deadline for Applications: 29 October 2017
Workshop Dates: 12 – 18 November 2017
Language of the Workshop: Arabic and English
Price: QAR 2,000.00
Ability Level: Intermediate to advanced
8 to 10 Qatar and MENA-based producers with a project in development will be selected.
---
Programme Content:
In-depth understanding of the producer's role in all stages of film production (relationship between producers and writers, producers and directors etc.)
Understanding the responsibility of various types of producers, (e.g. creative producer, co-producer, associate producer, line producer, executive producer etc.)
Introduction to the producer's approach to script and development, structural analysis and creative production
Different strategies for creating detailed budgets and financial plans
How to apply to film funds; presenting to key international film institutions; eligible funds for regional filmmakers
Developing co-production strategies
Developing a marketing plan – creating audience awareness and packaging film content
Guidelines to implement key marketing tools for online and social media platforms.
Pitch training
Film festival and market strategies
Legal aspects of sales and distribution
Creating classic and alternative sales and distribution strategies
---
Eligibility:
The workshop is designed for producers, investors, financiers, directors and film students, or anyone interested in entering the filmmaking business in the area of production. Participants must be based in Qatar or in the MENA region. A total of eight to ten participants will be selected for the workshop.
Candidates must have a feature-length project in development with a director/screenwriter associated to the project
The director/screenwriter will be able to partake in some aspects of the programme
Ideally, candidates have produced at least one short or feature-length narrative or documentary film in the past
Candidates must be Qatari nationals or residents of Qatar or

MENA

nationals
Candidates from the

MENA

region are responsible for funding their own travel and accommodation
---
Submission Requirements:
Please send the following in Word or PDF format to training@dohafilminstitute.com
Short synopsis of the project in development (maximum one page)
Long synopsis
Treatment of the film
Résumé and short biography of the producer, as well as same for director and screenwriter, if available
Script (if available)
Detailed information about what is required for the project's development
A letter outlining why you want to participate in this workshop
Any of the following, if available/applicable

Provisional budget and financing plan (in

USD

)
Technical specifications, including filming locations
Current state of the project (please note any secured professionals, possible co-producers, attached talent or other potential partners)
Director's statement, covering project virtues (one page maximum)
Stills, concept art, mood boards etc.
Links to teasers, trailers, demo reel or samples of previous work of both the director and the producer
---
Schedule Overview
9:00 AM – 1:00 PM: Group tutorials / Case studies / working in groups
1:00 PM – 2:30 PM: Lunch break
2:30 PM – 6:30 PM: One-on-one tutorials
Film Case Study: Case study on a specific film screened during the workshop where the Producer Expert share with the participants their experience of a film they produced (budget plan, script, relation producer/director, co-production and financing strategy, festivals and distribution strategy and sales, success and challenges faced during the production of the film, etc.)
One on one advising Sessions: Individual 45 min advisory sessions tailored to the needs of the project at hand where the participants will receive special advice on their projects (Scripts, Financing plan and budget, pitching and packaging, production team…)
Group Work: working sessions between participants and the Projects Coach in an informal atmosphere where participants share their projects and concerns to each other, and discuss the challenges they are facing in the region. During those sessions the participants will also have the possibility to work in a group on their projects and develop together their budget and financing plans, film packaging and Pitch Training.
Group Tutorials: Group advisory sessions where the Lab mentors will cover a broad range of subjects, from financing strategies and legal considerations for co-productions, to festival strategies and sales.
---
MENTORS
Jovan Marjanović
Lab leader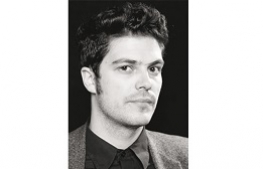 Jovan Marjanović has been involved in the Sarajevo Film Festival since 1999, first as a technician and programme coordinator and later as the CineLink manager. He is now on the festival's Executive Board as Head of Industry. Marjanović has produced a number of award-winning

---
Violeta Bava
Producers Lab Advisor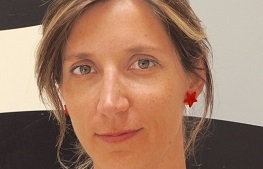 Violeta Bava was born in Buenos Aires, Argentina. In 2002, she received a double degree in the Theory, Aesthetics and History of Cinema and Drama from Buenos Aires University. Bava is the programmer of the Buenos Aires International Film Festival and the co-founder of BAL,

---
Dora Bouchoucha
Producer Expert
Dora Bouchoucha graduated with a degree in English Literature and has been a film producer since 1994. Through her company Nomadis Images, she has produced and coproduced several Tunisian and international documentary, short and feature-length films. Her films have been selected for film festivals

---
Jad Abi Khalil
Projects Coach
Jad Abi-Khalil was born in Lebanon and completed his cinema studies at the Université Saint-Joseph in 1998. He has directed numerous short films and feature-length documentaries, and began producing feature documentaries in 2007. Abi-Khalil is a founding member of Beirut DC, the cultural association for Arabic cinema,
read More
---
Jana Wehbe
Project Coach
Jana Wehbe studied filmmaking at IESAV, Beirut and modern oriental singing at the Lebanese National High Music Conservatory.
She has worked with renowned directors such as Maryam Keshavarez, Nadine Labaki, Joana Hadjithomas and Khalil Greige.

read More
---
Raquel Cabrera Simón
Marketing Expert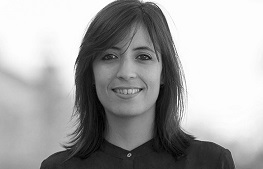 Raquel is The Film Agency's account manager of transnational and innovative initiatives such as 'Walk This Way' and branded-content projects such as 'Brandstorm', and the second edition of the Correos Film Festival. She is responsible for liaising with brand and media partners for the vast majority of The Film Agency's campaign activity. She has also coordinated marketing campaigns for clients like Morena Films, Telecinco, Mod Producciones, Royal Opera House of London, Fox or Mediapro, among others. Raquel had previous experience in production companies such as Morena Films and Mediaset, and Spanish companies like Mapfre and Endesa.
---
Aranka Matits
Sales Expert
Aranka Matits, as the founder of Featurette, advises distributors and sales agents on their acquisitions, co-productions and strategic planning. At the forefront of the ever-changing media landscape, she consults them on the evolving practices of distribution and production, creating opportunities for them to exploit new markets. She works with a range of clients such as theatrical distributors Version Originale (France), immersive cinema enterprise Secret Cinema, and on-demand platform SundanceNOW. Aranka's acquisitions include Oscar-winning box office successes like 'Still Alice' or Amour, festival hits like 'Toni Erdmann' and 'The Florida Project' as well as breakout debuts such as 'Wadjda' or 'Mustang'.
---
Jani Thiltges
Head of Studies, EAVE
Born in 1962, Jani Thiltges studied film at INSAS in Brussels from 1984 to 1988. Since 1986, Jani is co-founder, partner and CEO of SAMSA FILM in Luxembourg. He is also co-founder and partner of ARTEMIS PRODUCTIONS (Belgium), FADO FILMES (Portugal),
read More
---
In collaboration with