2017
Editing with Alex Bushe
Start date:

Oct 02, 2017

Ability Level:

Intermediate
In collaboration with the Filmakademie Baden-Württemberg
As part of Qatar Germany 2017 Year of Culture
In this five-day course, students learn the skills needed to operate in a professional environment as a film editor. Through a combination of lectures, curated film clips and practical exercises, students learn to recognise and evaluate the creative considerations behind the editing of both fiction and non-fiction films. They are also taken through common post-production workflows, from organising raw footage to delivering a finished film. Students are expected to bring a previously edited scene of no longer than 10 minutes, to screen for feedback.
Prerequisite: Students should have a basic understanding of Adobe Premiere Pro.
---
Dates: 2 to 6 October
Application Deadline: 18 September
Hours: 2:00 PM to 8:30 PM
Language: English
Lab Fee: 1000 QAR
Level: Intermediate
Prerequisite: Students should have a basic understanding of Adobe Premiere Pro.
Group Size: 10 to 12 participates
---
Submission Requirements:
Please send the following as Word documents or in PDF format to practical-labs@dohafilminstitute.com, including your full name, email and contact number in all text documents:
Specify in the email subject line which practical lab or labs you are applying for
Brief letter of intention explaining why you are applying to the lab (maximum one page)
A sample of your editing to share in class (no longer than 10 minutes)
CV or short biography
Copy of Qatar ID
Submission Process and Selection of Candidates:
Please submit all required documents listed above to practical-labs@dohafilminstitute.com. After the application deadline, the lab mentor and the DFI team will review applications. Candidates may be invited for a supplemental interview during the selection process. Please note that submission of your application does not guarantee a place in the workshop. Depending on the number of submissions, some applicants may be waitlisted or declined. All applicants will be notified of the results of their submission in a timely manner.
---
Schedule
Day 1
Introductory viewing examples and discussion about the role of the editor
A walkthrough of post-production workflow; from dailies to online
Getting started in the edit: how to set up the project and get organized
Practical exercise: review of Adobe Premiere Pro fundamentals, organizational skills, and a few "tricks of the trade"
Day 2


Editing fiction: analysis of scenes from several fiction films, from script to final cut
Fundamentals of fiction editing: continuity, crossing the line, etc.
Working with raw footage: how to make selects and organise material for a fiction film
Practical exercise: students will pull selects from raw footage and cut a narrative scene
Day 3


Editing documentary: analysis of scenes from several documentaries
Editing for different genres of documentary
How to watch raw footage for a documentary: what to look for when making selects and how to organize the material
Practical exercise: students will work with raw footage for a documentary scene; they will make selects and cut a scene
Day 4


Discussion of fiction (i.e. narrative) and non-fiction (i.e. documentary) editing, and the spaces between
The role of the editor and the relationship between editor and director
Understanding your audience: the psychology involved in film editing
Screening of students' previously edited scenes with feedback (part one)
Day 5


Working with archival footage: what to look for, how to use it, how to stay organized, and methods for gathering it during the edit
Working with music and sound design to enhance a film
Screening of students' previously edited scenes with feedback (part two)
---
Lab Mentor
Alex Bushe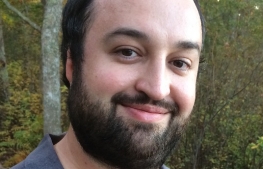 Alex Bushe is a Los Angeles-based editor and assistant editor, who has extensive experience in both documentary and narrative filmmaking. He has worked with editor Joe Bini for eight years on more than a dozen films, most notably on several films with director Werner Herzog. Other notable films he has worked on include Nick Broomfield's "Tales of the Grim Sleeper", Andrea Arnold's "American Honey", and Lynne Ramsay's recently completed noir thriller "You Were Never Really Here". In 2014, Bushe was invited to participate as an assistant editor at the Sundance Institute's Documentary Edit and Story Labs.
Bushe currently divides his time between editing "Guangzhou Love Story", an observational PBS documentary about an African-Chinese family navigating China's xenophobic society, and directing the film "Nomansland", a documentary about a mysterious uninhabited island off the northeastern coast of the United States.
Lab Advisor
Thorsten Schütte

German documentary filmmaker Thorsten Schütte has worked for more than 20 years as a writer, director and producer. He has produced and directed numerous television films and series, including WORLD JAZZ (1998), TRIP TO BRAZIL (2001), THE CACTUS OF KNOWLEDGE (2001) and NAMIBIA GENERATION X (2005). His thought-provoking and well-reviewed films have been widely shown at international film festivals, including the Sundance Film Festival, the International Documentary Film Festival Amsterdam and the Berlin International Film Festival.
Parallel to his passion for music documentaries, Schütte dedicates a substantial part of his work to film-based environmental and labour activism in Southern Africa. Some of his documentaries, like LAND MATTERS (2008) and THE FORGOTTEN (2015), deal with subjects like land ownership, affirmative action and farm workers' rights.
As a founding member of the Stolen Moments-Namibian Music History Untold Research Group, Schütte and his team members have for several years been exploring the Namibian music culture that was almost forgotten, suppressed under apartheid. He currently runs a digitalisation campaign in co-operation with the Namibian Broadcasting Corporation, and is co-curating an international exhibition that is scheduled to open in Berlin in the Fall of 2017.
Since 2002, in Germany, Schütte has co-ordinated documentary and fiction studies at the internationally renowned Filmakademie Baden-Württemberg.
---
This workshop is in collaboration with
To learn more about the Filmakademie Baden-Württemberg, please click here.

To learn more about the Qatar Germany 2017 Year of Culture, please click here.