2011
Maisha Documentary Lab for Screenwriters and Directors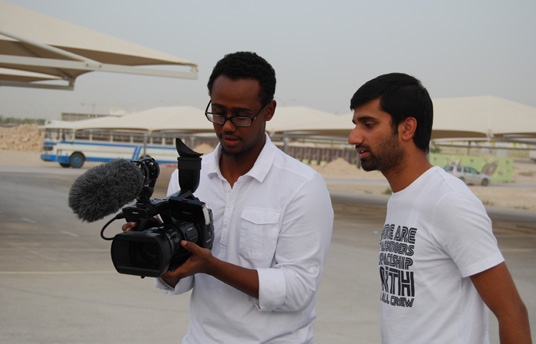 Start date:

Sep 19, 2011

Duration:

2 Weeks

Ability Level:

Beginner. Over 18
Registration Closed
In the second year of collaboration with Maisha, DFI are looking for two hardworking students to represent Qatar at the 2011 Documentary Lab. This workshop will challenge you and boost your skill and knowledge up to the next level.
There will be a total of 12 students participating in the lab. The first four days of the program focus on watching and analyzing documentary films and familiarizing the students with the equipment. The second half of the Lab is devoted to 4 groups of students shooting and editing their own short documentary projects. We are looking for two people to represent DFI in this Lab.
DFI will be covering the cost of flights, accommodation, and training during your stay in Uganda.
This lab will run in two parts simultaneously, you can apply for:
Maisha Documentary Lab – Technical (for Sound Recordists, Editors or Cinematographers)
Or
Maisha Documentary Lab – Directors (for Screenwriters and Directors)
There will be 12 students at this Lab but only 3 or 4 documentaries will be made. Remember – this is a lab for you to learn every aspect of the process, however your documentary may not be chosen, in this case you will work as a crew member on someone else's film. No matter what role you take in this lab you will walk away with a fantastic amount of knowledge and experience.
To apply for the Directors Lab you will need to submit a treatment and essay:
The documentary should be a 5 – 10 minute portrait or a person, place or an event based in Kampala, Uganda. Check online for local newspapers, cultural websites, she what's happening in Kampala and find something you could make a short story about.
Dates: September 19 – October 2
Hours: Full days
Language: English
Location: Kampala, Uganda