Hayao Miyazaki: A Spectacular Career in Anime
Nov 25, 2013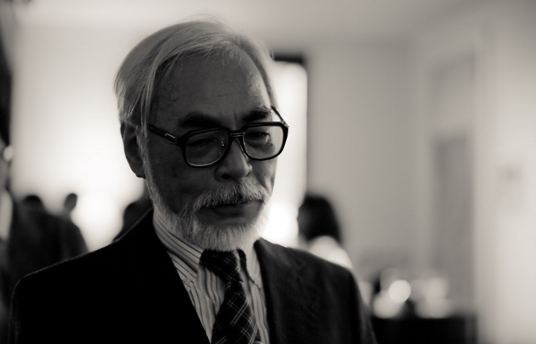 "To be born means being compelled to an era, a place, a life. It means losing the possibility of being countless other potential selves. There is no turning back, and I think that's exactly why the fantasy worlds of cartoon movies so strongly represent our hopes and yearnings. They illustrate a world of lost possibilities for us."
- Hayao Miyazaki
On September 1, 2013, during the Venice Film Festival premiere of his most recent stunning film, Hayao Miyazaki – arguably the most famous anime director of all time – announced that 'The Wind Rises' is to be his final feature film.
The news has left legions of anime fans mourning.
If you know his body of work, you understand why, and very likely share the feeling. If you don't, then you should not miss out on the amazing opportunity to see Miyazaki's first and last films as part of the Ajyal Youth Film Festival's Focus on Anime.
Born in Tokyo in 1941, Miyazaki began his career in 1963 at Toei Animation. He soon became involved in many classics of Japanese animation, including 'Horus: Prince of the Sun' . In that film, which is also screening at Ajyal, Miyazaki played an important role as chief animator, concept artist, and scene designer. The film marked the first collaboration between Miyazaki and director Isao Takahata, which would later lead to the creation of the legendary Ghibli Studios.
Miyazaki's directorial debut dates to 1979, when he got the offer to shoot 'Lupin the Third: The Castle of Cagliostro', the second film based upon a popular Monkey Punch manga, which also inspired two successful anime TV series.
Rife with slapstick and mayhem, the film already reveals the hallmarks of Miyazaki's style – keen attention to detail (the setting is a phenomenal mix of classic architecture and high-tech modern elements), a singular taste for gimmicks and tricks (secret weapons, mysterious dungeons and claw-fingered, ninja-like assassins) and the use of surprising and unique camera angles, especially in the spectacular car chases featuring Lupin's signature Fiat 500.
Miyazaki's second film, 'Nausicaä of the Valley of the Wind' (1984), introduces many themes that will recur later on in his work, such as ecological issues, a fascination with aircrafts and flight, and topics like pacifism and feminism.
The films that followed were destined to gain immediate commercial success and critical praise, and nowadays are regarded as milestones of Japanese cinema: 'Castle in the Sky' (1986) recounts the adventure of two orphans seeking a magical castle-island that floats in the heavens; 'My Neighbour Totoro' (1988) is the heartbreaking story of two sisters who await their ailing mother's return home from hospital, and in the meantime befriend the local spirits of the forest; 'Porco Rosso' (1992) once again reveals Miyazaki's fascination for airplanes in the unusual adventures in 1930s Italy of a WWI pilot who has been cursed to look like a pig.
'Princess Mononoke' (1997) was the first animated film to win Picture of the Year at the Japanese Academy Awards, and was also the highest-grossing film of all time in Japan – at least for a few months, until it was eclipsed by James Cameron's 'Titanic', whose box-office take, in turn, was destined to be topped four years later by Miyazaki's 'Spirited Away' (2001), the first anime film ever to win an Oscar, as well the Golden Bear at the Berlin International Film Festival, along with several other awards worldwide.
Other important films followed, including 'Howl's Moving Castle' (2004) and 'Ponyo' (2008) and 'The Wind Rises', which opens Ajyal and concludes Miyazaki's illustrious career, summing up the best of his previous works' themes and beliefs, including his fascination for aircraft and his anti-war sentiment, which are expressed in striking images of the glory of flight and the horrors of destruction.
"Personally I am very pessimistic," Miyazaki once declared, "but when one of my staff has a baby, I can't help but bless them for a good future. I can't tell that child, 'Oh, you shouldn't have come into this life', even though I know the world is heading in a bad direction. So, with those conflicting thoughts in mind, I think about what kind of films I should be making."
Let's hope he will change his mind and keep making them.