Day 3 Highlights: Ajyal'13
Nov 29, 2013
Yesterday in Katara, Doha Film Experience jury duty was in full swing for all three categories.
Mohaq jurors (ages 8 to 12) got to cheer for the Spanish family adventure film 'Zip & Zap and the Marble Gang', while Hilal (ages 13 to 17) witnessed the beautiful homebound journey of a Palestinian boy in Annemarie Jacir's 'When I Saw You'. The oldest jurors, Bader (ages 18 to 21) were inspired by the real-life story of a talented blind piano player in the Taiwanese feature film 'Touch of the Light'.
Then, they were off to the day's panels and workshops.
Mohaq kids discovered their inner otaku in an anime panel moderated by radio presenter Nabil Al Nashar, along with renowned cartoonists Abdulaziz Yousif, Kholoud Al-Ali, Fatima Al Nesf and Khalid Bin Hamad.
In the meantime, Hilal and Bader get some pretty 'sound' advice in a fascinating Dolby workshop presented by Tarif Sayed, director of the MENA Dolby Laboratories. Through slides and film clips, Tarif explained the different types of soundtracks in films, including dialogue and narration; foley and sound effects; and music, and gave our jurors some pretty cool tips on how to use audio to convey a story more effectively.
Over at the industry sessions, it was time to wrap up two days of fascinating and insightful discussion of how to create more effective and enlightening media for young people here in the Gulf region and around the world. It was an emotional moment as the group of international film professionals acknowledged the bonds made over the sessions (yes, there were even a few tears) and pledged to continue the work started here at Ajyal in the coming years. Ever ebullient and effervescent, session über-moderator Firdoze Bulbulia paid tribute to the hard and engaging work that the forum participants had put in, while Ajyal Director Fatma Al Remaihi thanked and congratulated them for making significant inroads into the issues at hand, and shared her hope of seeing the delegates frequently in the years to come.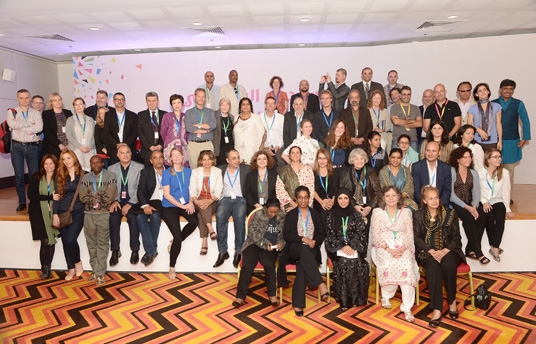 Our Focus on Anime continued at the Sony Open-Air Cinema, with a gang of enthusiasts sitting under the stars to see Hayao Miyazaki's first feature film, 'Lupin the Third: The Castle of Cagliostro'. Fans of anime shouldn't miss out on tonight's free screening of 'Horus: Prince of the Sun'.