Cinema Under the Stars
Schedule
Sat Jan 21, 07:00 PM, Museum of Islamic Art Park
Come one, come all! Experience the magic of seeing films under the stars. The weather is sweet, the breeze is light and nature is all around. Doha Film Institute brings you, your family and your friends this unique series with specially selected films that are sure to be enjoyed by people of all ages.
Screenings are free and seating is on a first-come, first-served basis.
---
Upcoming Screenings:
21 January – 7:00 PM, 8:00 PM
Directed by: Ahmad Al-Sharif
A year in the making.
Throughout 2016, people across our great nation have been submitting video clips for the Dari Qatar project, and we at the Doha Film Institute have been weaving them together to create a tapestry of daily life in Qatar.
The premiere screening of this hugely successful portrait of Qatar took place at Katara Cultural Village, with a red carpet event for Qatar's dignitaries and officials, as well as for all who contributed to this amazing project.
---
Past Screenings:
---
19 November – 7:00 PM
Directed by: Saeed Salmeen
'Going to Heaven' revolves around the events in 11-year-old Sultan's life. Seeking to return to the arms and the tenderness of his long-lost grandmother, Sultan embarks with a friend on a crazy journey from Abu Dhabi to Fujairah via Dubai…Read More
---
DFI Cinema Under The Stars: Made in Qatar
15 October – 7:00 PM, 9:00 PM
Directed by: Zainab Mohammed Ayon
Of her seven siblings, Maryam is the only one who isn't married. Because of this, the young woman begins to wonder… if she were just a bit shorter, or if she lost a few kilos, or if she changed her nose, would she have a husband?…Read More


Directed by: Khalid Salim
Bakr has some big news, but he's not sure his family, friends or even his fiancée will be able to accept it: he has decided to become vegan. As he tells those closest to him, the reactions aren't what he had hoped for…Read More


Directed by: Mohammed Abdulla
7amood's obsession with electricity – more specifically, with using as much of it as he possibly can – is off the hook, until he goes one step too far. Offbeat and punchy, '7amood Kahraba' has the witty smarts and clever syncopation of a fast-paced music video with an important message…Read More


Directed by: Yousef AlMoadhadi
A young man is obsessed with his mobile phone. Worried because his battery is running low, he gets into all kinds of trouble because of his beloved gadget – he loses his job, crashes his car and even falls into a sewage pit…Read More


Directed by: Nora Al Subai
A young boy idolises his father and longs to spend more time with him, but nothing seems to work: the man is just too busy. Then one day the youngster devises a clever way to grab his father's attention by playing him at his own game… 'My Hero' won a Best Short Film award at the Ajyal Youth Film Festival in 2013…Read More


Directed by: Ghassan Kairouz
In this playful short, appliances talk directly to us to convince us that we should use them in moderation. A Korean refrigerator, a German toilet, a French washing machine and a Chinese lamp teach us an invaluable and funny lesson about electricity and water consumption…Read More
---
22, 24, 26, and 28 March, 7:30 PM
When Flint Lockwood's latest contraption accidentally destroys the town square and rockets up into the clouds, he thinks his inventing career is over. Then something amazing happens as delicious cheeseburgers start raining from the sky…Read More
---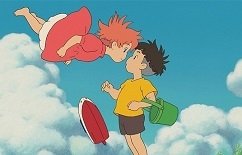 23, 25, and 27 March, 7:30 PM
Sōsuke is a good-natured youngster who loves playing by the sea. One day, he finds a beautiful fish trapped in a bottle. He frees the creature, names her Ponyo and takes her everywhere in his green bucket, promising to look after her forever. Touched by Sōsuke's kindness and fascinated by his life on land, Ponyo decides she wants to become human…Read More
---
Sat Jan 23, 07:30 PM
Doha Film Institute Celebrates the 25th Year Anniversary of Walt Disney's Animated Classic 'Beauty and the Beast'… Read More
---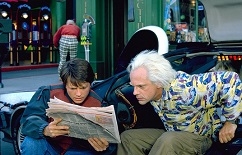 Fri, November 06, 08:00 PM
Getting back was only the beginning as the most spectacular time-travel adventure ever continues in Back to the Future Part II — the sequel that proves that lightning can strike twice!… Read More
---
Wed, October 21, 07:30 PM
From Academy Award-winning filmmakers Steven Spielberg and Robert Zemeckis comes Back to the Future — the original, ground-breaking adventure that sparked one of the most successful trilogies ever… Read More
---
Screening as Part of Passage to India
Fri, March 20th, 07:00 PM
Two blundering yet lovable musician protagonists meet ghosts, obtain boons, avert, wars, marry princesses and help the common people live happily ever after…Read More
---
Tuesday, February 10, 7:00 PM
National Sports Day Screening
Rocky Balboa, a down-and-out club fighter from the mean streets of Philadelphia, gets an unlikely shot at the world heavyweight championship when he takes on reigning champion Apollo Creed. The irresistible story of the boxer who gives his all to win the championship title won the Academy Awards for Best Picture and Best Director, and catapulted Sylvester Stallone to superstardom…Read More
PRESENTED WITH NO ARABIC SUBTITLES
---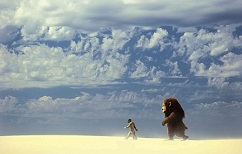 Friday, January 16 – 7:00 PM
An adaptation of Maurice Sendak's classic children's story, where Max, a disobedient little boy sent to bed without his supper, creates his own world – a forest inhabited by ferocious wild creatures who crown Max as their ruler…Read More
---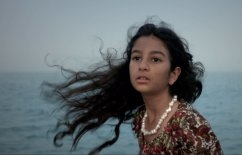 Fri, November 14th, 07:00 PM
The 'Made in Qatar' shorts programme will feature a collection of eight shorts films by Qatar's homegrown filmmaking talent. The films were highly regarded at the inaugural Ajyal Youth Film Festival and at other international film festivals.
---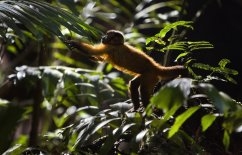 Sat, November 8th, 07:00 PM
A capuchin monkey born and raised in captivity finds himself alone and lost in the wilderness of the Amazon rainforest after a plane crash. Progressing through stages of fear, curiosity, defiance and love, he undertakes an adventurous and sometimes perilous journey to adapt to this magnificent and unknown universe…. Read More
---
Fri, November 7th, 07:00 PM
It's a jungle out there for Blu, Jewel and their three kids after they're hurtled from Rio de Janeiro to the wilds of the Amazon. As Blu tries to fit in, he goes beak-to-beak with the vengeful Nigel, and meets his father-in-law…. Read More
---
Thur, November 6th, 07:35 PM
This comedy-adventure centers on Blu, a flightless macaw who acts more human than bird. When Blu, the last of his kind, discovers there's another – and that she's a she – he embarks on an adventure to magical Rio. There, he meets Jewel and a menagerie of vivid characters who help Blu fulfill his dream and learn to fly….. Read More
---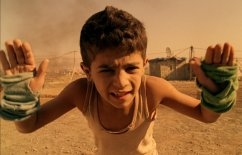 Fri, October 31st, 07:00 PM
Under the oppressive regime of Saddam Hussein in Iraqi Kurdistan, two homeless orphaned brothers are inspired to travel to America after they see 'Superman' in the city's first cinema. They have no passports and no money – and their only means of transport is a donkey called Michael Jackson. With all the odds against them, they set out toward their dream, discovering on their journey that perhaps they are superheroes themselves….. Read More
---