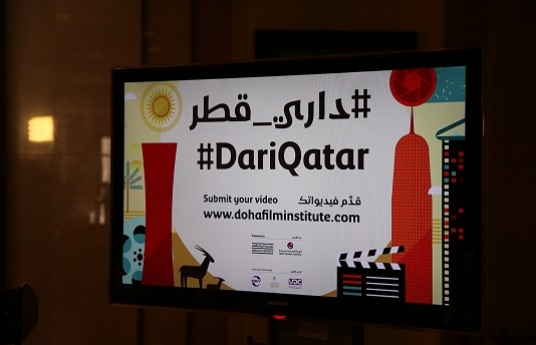 Download this press release
1000 kB
Doha, Qatar; December 13, 2015: The Doha Film Institute and Qatar Tourism Authority have joined hands to salute the nation with a feature-length documentary in which the people of Qatar are the heroes and directors.
With #DariQatar, Qatar citizens and residents have the opportunity to tell the story of their life in the country that will be included in a documentary to be curated by the Doha Film Institute. The fantastic panorama of the nation will principally cover six segments: Family, Change, Joyful Honesty, Harmony, Nature and Beauty. Qatar residents can submit video footage that conforms to any of these broad themes from today through to September 2016.
The video may be shot on mobile phones or state-of-the-art cameras, and could cover practically anything and everything about the nation – from picturesque views to every-day moments of daily life. The Doha Film Institute will commission professionals and filmmakers to develop a storyline from the entire footage. The final cut of Dari Qatar, which means 'My Home Qatar' in Arabic, will premiere in late 2016.
The initiative is presented by the Doha Film Institute and Qatar Tourism Authority with the support of Occidental Petroleum Corporation, The Pearl Qatar and United Development Company as Platinum Partners.
Fatma Al Remaihi, CEO of the Doha Film Institute, said: "#DariQatar is our tribute to our leadership and our nation. Film is the most powerful story-telling medium and with this new initiative, we are reaching out to the entire Qatari community to call the shots in sharing their story with the world. Dari Qatar is a unique national initiative and is the perfect platform to celebrate and capture the spirit of our nation and its people."
Saif AlKuwari, Director of International Cooperation at Qatar Tourism Authority, said: "Our National Tourism Sector Strategy, which we launched last year, has a clear focus: To diversify our tourism products and services while ensuring they are rooted in Qatar's culture and heritage. That is why QTA is very proud to be partnering with such a dynamic and active organization as DFI, which does so much to tell Qatar's story through our country's budding film makers."
Taking part in Dari Qatar is simple. People wanting to submit can read tips on filmmaking and submission details on www.dohafilminstitute.com, shoot their film and upload the video on the same site. Submissions are open from Dec. 13, 2015 to Sept. 30, 2016.