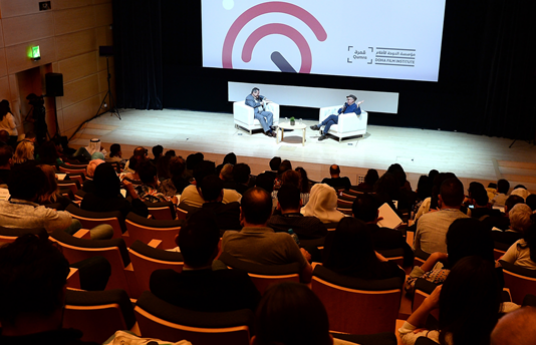 – Organised in partnership with Northwestern University in Qatar, Qumra Talks is part of the new industry initiative by the Doha Film Institute to share insights on trending topics impacting the international film and media industry
– Tickets on sale on www.dohafilminstitute.com
Doha, Qatar; February 23, 2017: Qumra 2017, the industry initiative by the Doha Film Institute to nurture the next generation of filmmaking talent, will host the inaugural Qumra Talks from March 5 to 7, with interactive discussions led by industry experts covering diverse topics that reflect key industry developments, from writing for animation to the power of digital media and its increasing relevance in modern storytelling.
Organised in partnership with the Northwestern University in Qatar, Qumra Talks is a series of three specially curated discussions, open to the public, that gathers leaders from the film, TV, technology and online worlds to share their insights on topics that add value to participants by offering new perspectives into areas that are redefining the film and media ecosystem.
Fatma Al Remaihi, Chief Executive Officer of the Doha Film Institute, said: "Qumra Talks are informative and inspirational sessions that enable participants to absorb contemporary industry trends and update their knowledge and skills. For the inaugural session, we have chosen topics that not only reflect key industry developments but also highlight creative writing and the increasing role of technology in reshaping modern story-telling. The chosen experts will share their perspectives and real-world knowledge that perfectly complement the intimate discussions, mentoring sessions and networking opportunities at Qumra."
On March 5, from 3 to 5PM, Under the Milky Way CEO Pierre Alexandre Labelle, Front Row Filmed Entertainment Managing Director Gianluca Chakra, and Iflix Head of Middle East and North Africa Nader Sobhan will mark the first Qumra Talk on 'International Distribution and Marketing.' They will share their insights on the direction of the digital film distribution value chain and how independent producers can best use emerging platforms to both finance productions and recoup on their investment. This session will provide a general overview of the VOD industry, present specific case studies and discuss the role, limits and future of digital distribution as a long-term solution to reach wider and more engaged audiences in the MENA Region.
Mike Reiss, acclaimed American television comedy writer and producer, who has won four Emmys writing for The Simpsons, will take centrestage on March 6, from 3 to 5PM, as he discusses 'Writing and Production Animation.' Contributing writer to two dozen animated films, including Ice Age, King Fu Panda and Despicable Me, he will take the audience through his career, describing lessons learned along the way and demonstrating how all those skills come together in The Simpsons, in a lively class featuring rare animated clips.
Qumra 2017 programming includes industry meetings designed to assist in propelling selected projects to the next stages of development, through master classes, work-in-progress screenings, bespoke matchmaking sessions and tailored workshops with industry experts. Qumra will be held from March 3-8 at Souq Waqif and the Museum of Islamic Art.