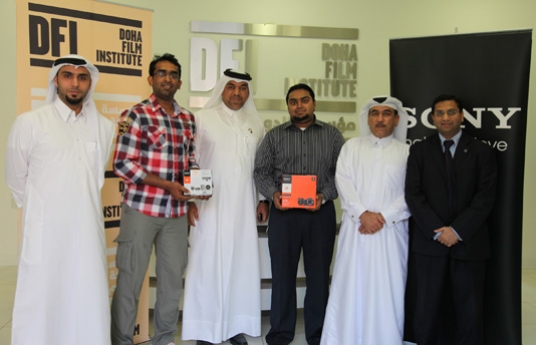 'National Day' Photography Competition Launched by the Doha Film Institute (
DFI

) with Support from

SONY

Doha, 26 December, 2011 – An image of a Qatari family and a picture of dhow boats scattered along Doha's iconic harbor scooped top honors in a special community photography competition recently held by the Doha Film Institute (DFI) to capture the essence of Qatar and the spirit of National Day. Supported by Sony, the 'My National Day' competition was launched to help aspirant local photographers gain exposure whilst also celebrating the unity and diversity of the people of Qatar.

The competition saw more than 400 images submitted from over 100 entrants across the country, with each photographer providing a unique and authentic look into what it means to live in Qatar. A diverse selection of the images has been uploaded to DFI's official website (www.dohafilminstitute.com), providing a retrospective look back on the December 18 celebrations.

A stellar panel of creative experts from Qatar judged the competition including: Founder of Khalifa Art Centre, Khalifa Al-Obaidli; Board Member of Qatar Photographic Society, Khalid Fikri; and Producer, Ahmad Al-Sharif. The Competition's top prize – a Sony Alpha SLT-A55 16.2mp camera – was awarded to Umer Shabib for his photograph 'I Love Qatar', whilst second prize – a Sony Alpha NEX-3A 14.2mp ultra-compact camera with interchangeable lens – went to Salim Abdulla for his photograph 'Dhows of December'.

Commenting on the competition, Khalid Fikri said: "The competition opened the doors to the creative community to express their love for their country. Such events showcase the creativity that exists within the youth and provides them with a platform to exhibit their talent."

Khalifa Al-Obaidli added: "This event is an opportunity to discover the new talent from the digital generation. Through this national event, we are exposed to the creativity of the participants and their understanding and appreciation of the National Day."

Speaking on the quality and range of entries, DFI's Community Outreach Manager, Fatma Al Remaihi, commented: "We were very pleased with the way the community engaged with this competition, capturing such a diverse range of pictures that really represented the spirit of National Day. People of all ages and different abilities got involved, showing how proud they are of their communities and showing the country and the celebrations from so many different perspectives, and we are extremely thankful to Sony for providing some great prizes that we know will help our winners take many more amazing pictures in the future."

SONY, represented by Darwish Holding and the retail chain Fifty One East, is one of the leading consumer electronics brands in Qatar. The Division Manager (SONY Division) of Darwish Holding, Sameer Kazi, said: "As Fifty One East & SONY, we are very proud to be associated with DFI for such an important event which enabled the community to discover the essence and pride of Qatar during its National day by remembering the very best moments using the SONY Alpha cameras."

National Day is celebrated December 18 each year, marking the historic moment in 1878, when the founder of the state of Qatar Sheikh Jasim succeeded his father Sheikh Muhammad Bin Thani as ruler. Across the country, celebrations were held including parades, ceremonies and private events. Much of the celebrations in Doha centered on the corniche, with motorists decorating their cars and thousands of people joining in the fun.

About Doha Film Institute (DFI):
The Doha Film Institute (DFI) is an independent cultural organisation established in 2010 to incorporate Qatar's film initiatives under one banner. located at Qatar's new cultural hub, Katara, DFI's many initiatives include film and television funding for MENA and international films, year-round education programs, film screenings, and the annual Doha Tribeca Film Festival (DTFF).

In addition, DFI has established a number of strategic cultural partnerships with leading local and international organisations including Katara Cultural Village Foundation, Tribeca Enterprises, World Cinema Foundation, Maisha Film Labs and Giffoni Film Festival.

DFI was founded by H.E Sheikha Al Mayassa bint Hamad bin Khalifa Al-Thani. Along with Her Excellency, DFI leadership comprises DFI Board Vice-Chair and Festival Board Chair, H.E. Sheikh Mohammed Bin Fahad Al-Thani; DFI Board Member and Festival Board Vice-Chair, H.E. Dr. Hassan Al-Nimah; DFI Board Member, Mr. Mansoor Ibrahim Al-Mahmoud; Festival Board Member, H.E. Sheikh Jabor Bin Yousuf Al Thani; and DFI Executive Director, Amanda Palmer.