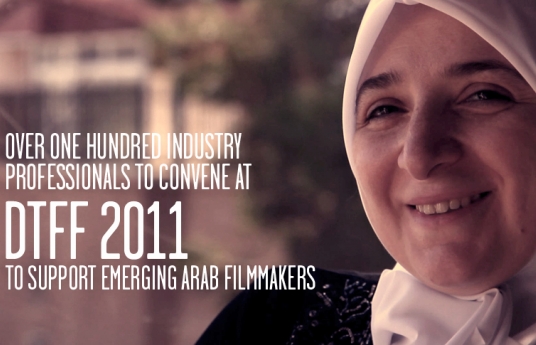 Download this press release
227 kB
DFI Launches Innovative Industry Program, 'Doha Projects', to Nurture Film Grant Recipients from across the Middle East and North Africa (MENA) Region
Doha, Qatar, 10 October 2011 – In a significant move for Qatar's evolving film industry and Middle Eastern creative talent, the Doha Film Institute (DFI) today announced 'Doha Projects' – a unique industry initiative that will see over 40 DFI grantees receive mentoring across all facets of the film business, with aims to holistically nurture regional filmmakers and maximise the full potential of DFI-funded film projects.
Taking place during the third annual Doha Tribeca Film Festival (DTFF), 'Doha Projects' will lead DFI grantees through a curated series of one-on-one meetings, plenary sessions, panels and networking events with key international sales agents, financing bodies, script consultants, distributors and producers relevant to the region.
Over 100 diverse industry professionals from around the world will participate in the four-day program including: Chairman of multi-national film production, sales and distribution company, Fortissimo Films, Michael J. Werner; Renowned Egyptian producer and Founder of Film Clinic, Mohamed Hefzy; Emmy nominated producer, Co-Founder and CEO of Louverture Films, Joslyn Barnes; Managing Director of Front Row Filmed Entertainment LLC, Gianluca Chacra; film producer and Head of Acquisitions for Wild Bunch, Rita Dagher; Managing Director of the National Film Development Corporation of India, Nina Lath Gupta; Producer and Special Advisor to ART, Antoine Khalife; Canadian film distribution veteran and Head of Acquisitions at D Films, Tony Cianciotta; and Group Director of Services at MBC Group, Fadi Ismail.
The unique initiative builds upon DFI's film financing division, which was launched in May 2011 to provide vital financial support for Middle Eastern and North African (MENA) filmmakers. The Program will attempt to link projects with mentors and financiers for long-term support, a relationship that will help see a film from development through to production, post-production, marketing and distribution.
DFI's Executive Director, Amanda Palmer, explained that 'Doha Projects' is not only the next natural step towards building a strong regional infrastructure to support Arab storytellers but also an important strategic move for opening up the MENA region as a viable market for international film production and distribution.
She said: "With the launch of 'Doha Projects', we hope to really take our relationship with regional filmmakers beyond finance, and into a realm where we can have long-term impacts on their development. There is no doubt that we believe in these filmmakers and their stories, and as a financier we have a responsibility to ensure that films are not only made, but made to their full potentials – that means from creative, authentic and business perspectives. The program aims to show the international industry that there is a growing market here that has been truly underexplored and to increase access to the MENA region for international investment. This region has a quickly growing market, filmmakers and audiences are interested, and the opportunities for strong investment and co-production are greater now than ever before."
Participating grantees will be given the opportunity to meet with members of the international film community, who will share their knowledge and expertise, focusing on current trends and market needs. These professionals will then provide individual creative and strategic feedback to the selected works in progress, with the aim of having such continue throughout the life-cycle of the projects.
Palestinian filmmaker Basil Khalil, who received a development grant for his project A Gaza Weekend, said "For me, one thing that really stuck out was that the organisers of 'Doha Projects' made it their priority to carefully assess my project's needs, to discuss them with me and to suggest the right people to help me move it to the next level."
The makers of Tunisian film, Challat of Tunis, production grant recipients, are also set to participate in the Program. The film's Producer, Habib Attia, commented: "We are very happy to participate in this initiative. Our main goal now is to bring on a main French or European broadcaster as co-producer or main pre-buyer of the film. We are also seeking a world sales agent to ensure good distribution of the film worldwide and are convinced that the participation of our project in 'Doha Projects' can be fruitful for us."
Commenting on his involvement in the Program, Industry representative, Mostafa Nagy, Head of Programmes at Al Jazeera Documentary Channel, said: "Participating in 'Doha Projects' is a brilliant opportunity to be a part of the developing Media and Film industry scene in the MENA region. This initiative really enhances the efforts made by DFI in mentoring this regions talent and people. We are very excited to be part of this wonderful vision helping the region develop into a sustainable knowledge-based society. This is only the start of a new milestone in our industry's progress and we look forward to mentoring the grantees into potential world class filmmakers and storytellers."
About Doha Film Institute (DFI):
The Doha Film Institute (DFI) is an independent cultural organisation established in 2010 to incorporate Qatar's film initiatives under one banner.
Located at Qatar's new cultural hub, Katara, DFI's many initiatives include film and television funding for MENA and international films, year-round education programs, film screenings, and the annual Doha Tribeca Film Festival (DTFF).
In addition, DFI has established a number of strategic cultural partnerships with leading local and international organisations including Katara Cultural Village Foundation, Tribeca Enterprises, World Cinema Foundation, Maisha Film Labs and Giffoni Film Festival.
DFI was founded by H.E Sheikha Al Mayassa bint Hamad bin Khalifa Al-Thani. Along with Her Excellency, DFI leadership comprises DFI Board Vice-Chair and Festival Board Chair, H.E. Sheikh Mohammed Bin Fahad Al-Thani; DFI Board Member and Festival Board Vice-Chair, H.E. Dr. Hassan Al-Nimah; DFI Board Member, Mr. Mansoor Ibrahim Al-Mahmoud; Festival Board Member, H.E. Sheikh Jabor Bin Yousuf Al Thani; and DFI Executive Director, Amanda Palmer.